Bigger, better, more joined up
At the heart of our Wilder Somerset 2030 is tripling the amount of land managed for nature. It's a significant challenge, but one we can only achieve if we work together.
We need to create a strong, interconnected network of wild spaces and healthy habitats that provide space for nature to thrive and and restore the resilience of our ecosystems at a landscape scale, which can then provide healthy soils, clean air and water. Land of any size can contribute to this Nature Recovery Network – nature reserves, community spaces, gardens, farms, parks, churchyards and schools – it works at any scale.
We know that there's many people across the county who have the passion and energy to drive positive change for nature in their local area, school, business, land, or workplace. We need people to help lead and organise change and real doers to help us deliver on the ground and get others on board our Wilder movement.  
You may already be a part of an existing community group whose goals and motivations align well with Team Wilder, or you may be looking to set your own one up. Whatever it is, Team Wilder can help you by providing certain training and resources, and connect you with other like minded groups and people for you to share your ideas with.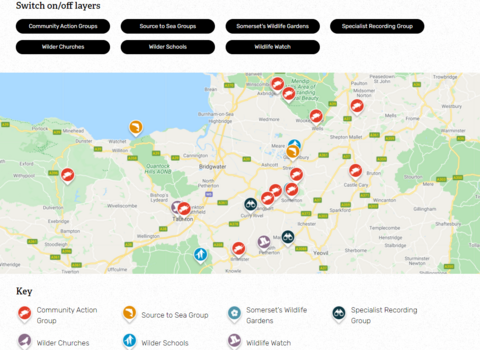 Put your community group on the map!
Get your wilder community on our Team Wilder map below!
Start taking action!
There's no time like the present.
No community groups in your area?
Starting a community group on your own takes a lot of time and energy that you may not have right now. That's why, Team Wilder is here to help you! We'll connect you with others in your area who are also interested in starting a group and we'll give you training and plenty of resources in setting a group up yourselves.
Find resources on how to set up your own Community Group. We've put together some resources and toolkits we think you'll find useful as you start your Team Wilder journey.
Team Wilder resources
Browse our library of resources and training videos specially curated for Team Wilder, everything from managing your hedgerow to starting a community campaign. Start taking action for nature today!
Team Wilder projects
Find out more about what is going on across Team Wilder!
Be part of Team Wilder's online community