Ash Dieback Fund
Will you give us your support to ensure our reserves remain safe and accessible for all to enjoy?
90,000,000 ash trees in the UK
1,000 + species are reliant on ecosystem ash provides
90 % of Mendip woodland is ash
95 % of ash may die in UK in next 20-30 years
Ash Dieback Fund
Not since Dutch Elm disease have we faced such a devastating attack on our native trees. The silent killer that is Ash Dieback is ravaging Somerset's woodlands with apocalyptic intent. 
Almost half the land Somerset Wildlife Trust manages is woodland, much of which contains ash trees, with some Mendip woodlands being up to 90% Ash. We're at the beginning of what will become an ongoing and urgent concern for the Trust for years to come.
We're faced with swathes of dead or dying trees which have now become a risk to the public. They must be removed by specialist contractors, experienced in Ash Dieback and with the use of additional costly mechanical equipment, due the unpredictability of how trees behave once they become infected. The work simply cannot be undertaken by general contractors. There really is no time to lose...
Ash Dieback Fund
We urgently need your help to tackle this monumental challenge
It will come as an incredible shock to everyone when in, say five years time, they're looking at a very different picture, both visually and ecologically, of one of Somerset's most precious and enduring landscapes [the Mendips]. People need to prepare themselves for what will be left behind in its wake.

Head of Reserves and Land Management at Somerset Wildlife Trust
Can you help?
Our own specialist assessment has detailed the extent of the problem on our landholding and highlighted the scale of the work that is needed to bring the situation under some form of control. Estimates for just the most urgent safety work that needs to be done to ensure that the public are kept safe on roads and Public Rights of Way stand at £600,000. This is just the start of what will be a long-term emergency response and recovery plan for these woodlands, the habitats they provide, their wildlife and for the people and communities around them.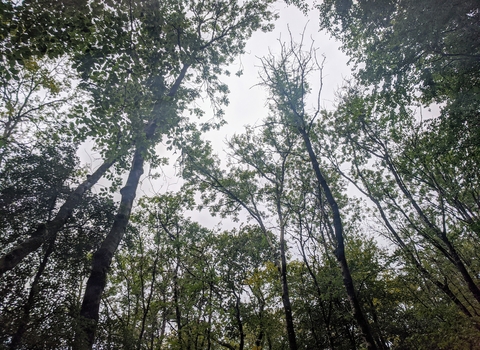 Ash dieback
We urgently need your help to tackle a monumental challenge. At a time where our costs continue to escalate and our fundraising capabilities diminish, we urgently need to raise special funds to directly address the Ash Dieback problem.
How does ash dieback look?
Click through our image gallery below to see some of the devastating effects of Ash dieback that we're already seeing on some of our reserves. 
The grieving process for this loss will be incredibly long, difficult and deep.

Head of Reserves and Land Management at Somerset Wildlife Trust
Please help if you can
Any donation, large or small, really will make a difference in our ability to tackle the effects of this disease. Thank you. 
Ash Dieback Fund
Help us tackle ash dieback today