Your business putting nature first
Somerset's natural environment and its remarkable landscapes are fundamental to the county's economic health. But the UK is one of the most nature depleted countries in the world and, whilst we consider our county green, the reality is that in Somerset only 10% of land is positively managed for nature. Together we must change this.
As awareness of the biodiversity and climate crises grows, it is clear that businesses must make themselves fit for the sustainable economy of the future and help nature recover for all our benefit. Through our work with businesses, whether a simple membership, landscape scale partnership or fundraising, our focus is on putting nature at the heart of what you do.
An environmentally healthy county supports a healthy bottom line - which in turn ensures that Somerset continues to be a desirable place to live, work and visit.

Head of Communications and Corporate Relations, Somerset Wildlife Trust
How you can get involved
We work with businesses of all sizes in many ways. Whether you want to enhance your environmental sustainability credentials, use nature as a bridge to connect with your local community,  improve employee wellbeing or simply just give a little back to nature, take a look at the options below and call Kirby or Lucy for a chat.  01823 652413 / kirby.everett@somersetwildlife.org 
Corporate membership

Become a corporate member

Cost: £500 + VAT per annum. 

Benefits:

Framed membership certificate (Additional frames can be supplied for multiple offices for a small additional charge)
A one year subscription to Somerset Wildlife News magazine (2 print issues per year) 
10% discount on all advertising in Somerset Wildlife  (readership of 20,000)
Subscription to 'Wildlife News' – our digital newsletter that covers wildlife and our work in general from across the county (monthly).
Subscription to 'Working for Wildlife' – a digital newsletter that covers specific corporate news and activity (2 issues per year)
Inclusion of your logo and hotlink from the SWT website to your website to drive visitors to your site.
Acknowledgement of your support in our Annual Reports and Accounts.
Permission to use the Somerset Wildlife Trust corporate member logo on your website and CSR report.
A 'joining' press release to generate media coverage which will also be extended to all our Digital media channels (monthly E-News (circ.over 15,000) Facebook (over 5000 followers) Twitter (over 12,800 followers).

(*Corporate Members can upgrade to being a Corporate Partner at any time) 

Find below all the corporate documents required to find out more about the scheme and how to join.
Corporate partnership

We believe in collaboration and that by working together we can create a brighter future for the natural world. Everyone has a part to play in nature's recovery. We want to build mutually rewarding partnerships with companies who share our values and who want to make a difference for Somerset's wildlife, landscapes and people. Whatever your goals, please contact us so we can co-create a bespoke partnership plan that helps you put nature and the environment at the heart of your business.
Small business supporter

Your small business can help us make a big difference by donating a £ or % from the sales of your products or services. 

To support us through your sales, you must have a Commercial Participation Agreement set up, which is created in a few simple steps through our Work for Good donations form.

With your small business, you are in a prime position to help us help wildlife.

The funds you raise will support our movement towards nature's recovery, and, we'll help you encourage your loyal customers to take action themselves, by sharing with you our wealth of resources to help them put nature first.

Additional benefits:

Use of the "Work for Good" logo alongside a short statement so you can proudly publicise your support (e.g. 10% of the purchase price will be donated to Somerset Wildlife Trust.)

Subscription to 'Wildlife News' – our digital newsletter that covers wildlife and our work in general from across the county (monthly).

Inclusion of your logo and hotlink from the SWT website to drive visitors to your site, once you've raised £500 or more.

Pledge your donation today in a legal, simple and sustainable way via our Work for Good page.

To find out more, contact Kate Wilson at fundraising@somersetwildlife.org

Want our Somerset Wildlife Trust logo associated with your business? Plus a wealth of other benefits? Check out our Corporate Membership and Corporate Partnership opportunities.

 
Other ways to support us

Corporate fundraising -  If the people in your business are passionate about nature, we can provide inspiring ways for them to get involved and take action. We work with companies to design packages of fun fundraising activities and challenge events to support our local conservation projects.  We welcome great ideas and are able to support anything you do and help you promote it. 
Charity of The Year - We would welcome the opportunity to be nominated as your chosen charity of the year.  Conservation charities don't typically get onto the shortlist - you can change that and help your local landscapes and wildlife.  Call us to talk about how we can support you. 
Payroll giving - Payroll giving is a popular scheme whereby your employees can give a regular donation to help local wildlife. Small donations make a huge difference so if you don't currently have a payroll giving scheme, please think about setting one up to raise vital funds for us.
Print sponsorship - A chance to show your commitment visually by sponsoring a variety of print and interpretation materials for our shows, nature reserves and other print communications. 
Caring about Carbon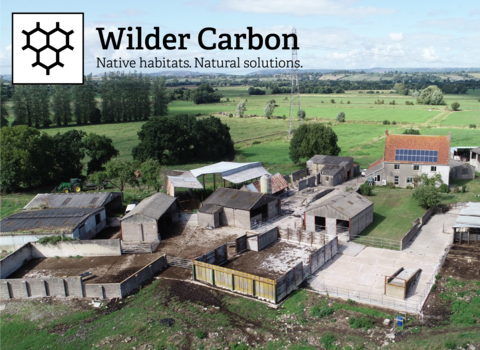 Honeygar: A Wilder Carbon Pathfinder project for the Somerset Levels
We pleased to be able to say that Honeygar is one of a number of Pathfinder projects across the UK brought to the investor landscape by Wilder Carbon - an initiative that secures funding and support for nature-based solutions for carbon capture, nature restoration and wildlife recovery.    
Thanks to the Wilder Carbon Carbon Habitat Tool we are able to reliably calculate the amount of carbon that can be locked up by Honeygar, meaning we can convert an organisation's residual carbon emissions into a premium quality, ethical investment in local nature restoration.
Find out more
Corporate news:
Case studies
There is a strong link between our contribution to a sustainable built environment and the Trust's agenda to maintain the health of the natural environment. We are aligned in our desire to help our landscapes, habitats and wildlife to thrive, and believe we can all play a small part in helping this become a reality in Somerset.

Managing Director for Melhuish & Saunders