Working with Somerset's business community
Somerset's natural environment and remarkable landscapes are fundamental to the county's economic health and for the growth of its business communities.  Whatever size your business, somewhere along the line, Somerset's rich landscapes, its wildlife and natural capital will have contributed in some way to your success and the health of your employees and the communities they live in.
Investing in wildlife makes good business sense and is good business practice, but it's also great for your staff. Many studies link nature based activities to improved mental and physical health, helping us to perform better and lead happier, healthier lives.
Supporting our work means that you can demonstrate your commitment to reversing nature's decline to your staff, customers, suppliers, clients and the local community, put something back into the landscapes and your local communities and achieve a wide range of other commercial and organisational benefits.
An environmentally healthy county supports a healthy bottom line - which in turn ensures that Somerset continues to be a desirable place to live, work and visit.

Head of Communications and Corporate Relations, Somerset Wildlife Trust
How you can get involved
There are many ways you can get involved with our work. You might want to boost a corporate responsibility programme or meet community engagement targets; improve employee health, wellbeing and motivation or enhance your environmental sustainability credentials.  Whatever your objectives, take a look at the options below and get in touch.
Corporate membership

Become a corporate member

Cost: £500 + VAT per annum. 

Benefits:

Framed membership certificate (Additional frames can be supplied for multiple offices for a small additional charge)
A one year subscription to Somerset Wildlife News magazine (2 print issues per year) 
10% discount on all advertising in Somerset Wildlife  (readership of 20,000)
Subscription to 'Wildlife News' – our digital newsletter that covers wildlife and our work in general from across the county (monthly).
Subscription to 'Working for Wildlife' – a digital newsletter that covers specific corporate news and activity (2 issues per year)
Inclusion of your logo and hotlink from the SWT website to your website to drive visitors to your site.
Acknowledgement of your support in our Annual Reports and Accounts.
Permission to use the Somerset Wildlife Trust corporate member logo on your website and CSR report.
A 'joining' press release to generate media coverage which will also be extended to all our Digital media channels (monthly E-News (circ.over 15,000) Facebook (over 5000 followers) Twitter (over 12,800 followers).

(*Corporate Members can upgrade to being a Corporate Partner at any time) 
Corporate partnership

Become a corporate partner

 

To become a Somerset Wildlife Trust corporate partner, you pay the corporate member cost of £500 + VAT (and receive all of the benefits associated with being a corporate member), and then also commit to choose at least one other corporate activity from the list below. (*each costed separately) 

We are able to create completely bespoke programmes with any combination of these things, or work with you to meet specific objectives you might have.

Team volunteering day (*10-12 employees) - The phrase 'we having a team building day' often conjures up thoughts of random raft–building or throwing yourself blindly off a high place to land in the safe hands of an unknown colleague; and volunteering implies being assigned a short shelf life physical activity, where you don't see the broader impact of your efforts beyond the day itself.  Our team volunteering days are a unique combination that effectively; brings together often geographically diverse staff out of their working environment to enhance understanding of the business and create better internal social networks; reduces the levels of stress in the workplace and enhances general health and wellbeing of staff which increases performance and can improve sickness and absenteeism; and for us, delivers tangible and visible benefits to our long term conservation efforts in a particular landscape or community - which, if local to your business, can be revisited and enjoyed after the day has been completed. *Minimum number 8 attendees 
 
Away day - A guided walk at A Somerset Wildlife reserve for 8-10 employees, which is 'behind the scenes' tour with a wildlife/reserve expert. This can either be for your own staff, or for customers who you would like to network with in a completely different environment. 
 
Wild lunch-break - An informal boardroom style lunchtime talk by a Somerset Wildlife Trust member of staff with a choice of wildlife/landscape based topics to choose from.  Engage your staff with the green spaces and wildlife near their work or in their communities or educate them about what they can do for wildlife  -  an easy way to step away from your desk and have lunch.
 
Wild office – Would you like to make your workplace more wildlife friendly?  Is there some green space on your office grounds that could be a mini-meadow, or does it have room for nest boxes? Let us help you bring a bit of wild to what are usually less than green places. 
 
Wild Walk - Encouraging your staff to take a short time away from their desk during the day to re-energise and recharge means they will be more productive. If you have a green space on your office's doorstep, let us create a short Wild Walk so your staff can do just that and take in some wildlife at the same time and get to know their local area. See examples here
 
Event sponsorship - Somerset Wildlife Trust run an enormous variety of events of all sizes and kinds across the whole county.  Show your commitment visually and share common audiences by sponsoring one of our events. Its great for engaging with your local communities and raising awareness of your brand. 
 
Print sponsorship - A chance to show your commitment visually by sponsoring a variety of print and interpretation materials for our shows, nature reserves and other print communications. 
 
Corporate fundraising - Could you raised funds for us with a bake & cake sale, a one off sponsored event or a fun run maybe? We welcome great ideas and are able to support anything you do and help you promote it.   
 
Charity of The Year - We would welcome the opportunity to be nominated as your chosen charity of the year.  Conservation charities don't typically get onto the shortlist - you can change that and help your local landscapes and wildlife.  Call us to talk about how we can support you. 
 
Payroll giving - Payroll giving is a popular scheme whereby your employees can give a regular donation to help local wildlife. Small donations make a huge difference so if you don't currently have a payroll giving scheme, please think about setting one up to raise vital funds for us.
Corporate documents
Find below all the corporate documents required to find out more about the scheme and how to join.
There is a strong link between our contribution to a sustainable built environment and the Trust's agenda to maintain the health of the natural environment. We are aligned in our desire to help our landscapes, habitats and wildlife to thrive, and believe we can all play a small part in helping this become a reality in Somerset.

Managing Director for Melhuish & Saunders
Corporate news:
Caring about Carbon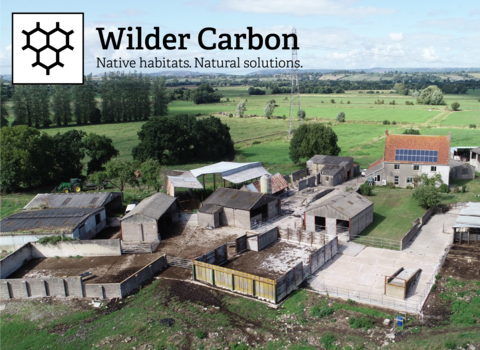 Honeygar: A Wilder Carbon Pathfinder project for the Somerset Levels
We pleased to be able to say that Honeygar is one of a number of Pathfinder projects across the UK brought to the investor landscape by Wilder Carbon - an initiative that secures funding and support for nature-based solutions for carbon capture, nature restoration and wildlife recovery.    
Thanks to the Wilder Carbon Carbon Habitat Tool we are able to reliably calculate the amount of carbon that can be locked up by Honeygar, meaning we can convert an organisation's residual carbon emissions into a premium quality, ethical investment in local nature restoration.
Find out more
Case studies
Get in touch
If you would like to know more about the scheme, or renew an existing corporate membership or partnership, please contact Kirby on 01823 652414 or email kirby.everett@somersetwildlife.org