Get outdoors
The practical conservation work groups carry out essential habitat management tasks for the benefit of local wildlife. Tasks are usually dependent on the season, but most include coppicing, scrub clearance and fencing or walling in the winter and grassland management, some surveying and path maintenance during spring and summer.
You don't need any experience to join in as training will be given, however you do need suitable clothing, to be reasonably physically fit and enjoy being outside in all weathers! Groups operate all over Somerset on SWT reserves, but some also support other organisations such as the RSPB and Natural England.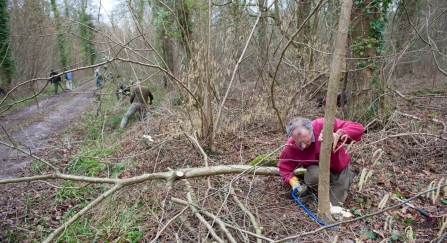 Practical conservation work groups
Below is a list of groups that are run by, or work closely with the Somerset Wildlife Trust. The timetables published below are subject to change. 
If you would like to take part in one the groups below, please get in touch with the group directly before you begin volunteering. As a new volunteer you will be asked to complete a registration form, including your emergency contact details
Mendip Hills conservation volunteers

Contact: Chris Billinghurst, please call 01761 221579                   

Area: Mendip Hills, SWT reserves                                   

When: Every other Wednesday
East Mendip conservation volunteers

Contact: Adel Avery, please call 01749 840240 or 07870 271588 or email adel@nettlebridge.com

Area: Shepton Mallet and area, SWT reserves              

When: 1st Sunday of the month
Magnificent Meadows conservation volunteers

Programme: April 2020 - September 2020
East Poldens conservation volunteers

Contact: Mark Green, please call 01823 461870 or email mark.green@somersetwildlife.org
Area:  SWT Reserves near Somerton and Langport.
When: Alternative Tuesdays
Sedgemoor conservation volunteers

Contact: Anne & Norman Lees, please call 01278 641521             

Area: Somerset Levels and Moors                                  

When: Every other Sunday

Visit their website for more details and to see the programme of work. 
Peat Moors conservation volunteers

Contact: Adam Kasik 
Area: Somerset Levels, SWT reserves
When: Thursdays 

This group is currently full and not looking for any more volunteers at this time. Why not try one of our other groups?  
Taunton Green Spaces volunteers
Lisieux Way community garden volunteers
You're doing something for nature, something that serves a purpose: protecting the land and the animals and people. You can come back here and look at the wall and say "I took part in that - I helped build it"
Other local conservation groups
Friends of Longrun Meadow

Contact: Philippa by emailing philippalausen@gmail.com.
When: Currently Thursdays, 10am at the Willow Cathedral
Area: Taunton, but all are welcome

Visit their website for details. 
Visit their Facebook page to see what the group has been up to. 
Shapwick Heath Green Team (Natural England)
Butterfly Conservation Large Blue action group
Swain's Lane Nature Reserve volunteers

Contact: John Morton, please call 01823 661996
Area: Wellington
When: ad hoc group managing and supporting this nature reserve
Exmoor Natural History Society work group
Neroche conservation volunteers

Contact: Peter Maben, please call 01823 433708 or email ncv@nerochewoodlanders.org

Area: Northern Blackdown Hills                       

When: 2nd, 3rd and 4th Wednesday of every month carrying out conservation tasks in the Blackdown Hills.

Visit their website for more details and to see the programme of work.
Taunton mid-week conservation volunteers

Contact: Linda Everton, please call 01823 662232 or Annette Kurton, please call 07759675693                       

Area: Taunton Deane and West Somerset

When: Alternate Thursdays
EuCAN Somerset Conservation Volunteers