Update July 2021
Please be aware that our practical groups are not currently accepting new recruits. We will update this page as and when recruitment resumes.
Find out more about our current volunteer opportunities here.
Join our Team Wilder e-newsletter to receive updates and inspiration for taking action for nature in your local area.  
About our Practical Conservation Groups
The practical conservation work groups carry out essential habitat management tasks for the benefit of local wildlife. Tasks are dependent on the season, but include coppicing, fencing or walling, grassland management, managing invasive species and path maintenance.
You don't need any experience to join in as training will be given, however you do need suitable clothing, to be reasonably physically fit and enjoy being outside in all weathers!
Groups operate all over Somerset on SWT reserves. There are also numerous community-lead groups which also support organisations such as the RSPB and Natural England. Please get in touch for more information about groups local to you, and to find out how to join.
Contact: volunteering@somersetwildlife.org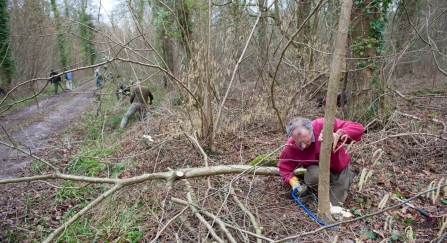 You're doing something for nature, something that serves a purpose: protecting the land and the animals and people. You can come back here and look at the wall and say "I took part in that - I helped build it"