Get outdoors
The practical conservation work groups carry out essential habitat management tasks for the benefit of local wildlife. Tasks are usually dependent on the season, but most include coppicing, scrub clearance and fencing or walling in the winter and grassland management, some surveying and path maintenance during spring and summer.
You don't need any experience to join in as training will be given, however you do need suitable clothing, to be reasonably physically fit and enjoy being outside in all weathers!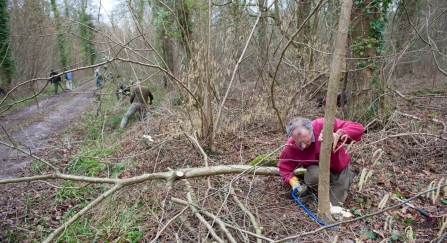 You're doing something for nature, something that serves a purpose: protecting the land and the animals and people. You can come back here and look at the wall and say "I took part in that - I helped build it"
Joining a group
We are very happy to take enquires during this time but please be aware that we are suspending recruitment for new volunteers until further notice. For the safety of all staff and volunteers, all practical conservation groups are run on a first-come-first-served booking system.
Groups operate all over Somerset on SWT reserves, but some also support other organisations such as the RSPB and Natural England. Please get in touch for more information about groups local to you, and to find out how to join.
Contact: volunteering@somersetwildlife.org