53 miles of coastline to explore
Home to internationally important birds
2nd highest tidal range in the world!
About Somerset's Living Coast
Despite the amazing diversity of habitats and wildlife along Somerset's fifty miles of coastline, it often doesn't get the attention it deserves. This vibrant piece of coastline includes sand dunes, rocky shores, cliffs, salt marsh, tidal estuaries, mud flats and coastal deciduous woodland, with 80% having environmental protection.
The Severn Estuary is recognised as an internationally important wetland for its diversity of fish species and wintering wildfowl and there are four Sites of Special Scientific Interest (SSSI) designated for their rare plants, insects, overwintering and breeding birds and their history, heritage and geology. The Kilve to St Audries Bay coast is in the Quantock Hills AONB, and the western most part, a designated Heritage Coast, is in Exmoor National Park.
Over the coming decades, climate change, coastal development and an increase in tourism all pose threats to coastal and marine ecosystems. By encouraging local people to engage with and celebrate Somerset's brilliant coast in a multitude of ways, we aim to help them better speak up for this crucial natural asset, protect it to minimise negative impacts and find ways to strengthen existing ecological networks so that wildlife can move and adapt to the challenges ahead.
Take a virtual tour of Somerset's coast
Whether you are preparing for a visit or are just curious about your coast,  there's lots to explore in our coastal Story Map
Those that know it well, know that there are some incredible places on our coast for people to enjoy, which also provide secure homes for a whole variety of stunning wildlife
Explore Living Coast projects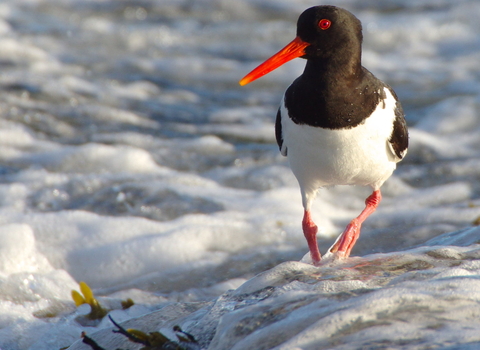 Somerset's Brilliant Coast
This exciting three year project is funded through the EDF Hinkley Point C Community Impact Mitigation Fund and National Trust. It is delivering community engagement, education and volunteering initiatives across Somerset's coast that celebrate our fabulous coastal wildlife and encourage local communities and volunteers to explore and look after and value it. These initiatives not only benefit the local environment but will also benefit people's health and wellbeing through nature connection and active participation.
The project has 3 strands: Curious Coast, Parish Shores and Wild Beach. 
Find out more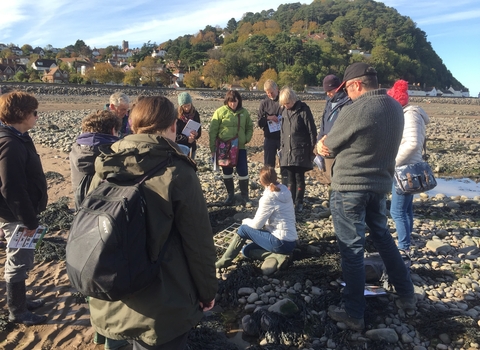 Shoresearch
Shoresearch is the Wildlife Trusts' national citizen science survey of intertidal shore - the exciting place where the sea meets the land. It's a great way to explore your local coast, learn more about the wildlife found there and add to our understanding of this important habitat.
Volunteers are trained through Shoresearch training sessions, to identify and record the wildlife on shores across the UK. The ecological data collected by this project helps experts to monitor our fragile sea life and better understand the effects of pollution, climate change and invasive alien species. Shoresearch data has been key to designating many of the UK's new Marine Conservation Zones.
Learn more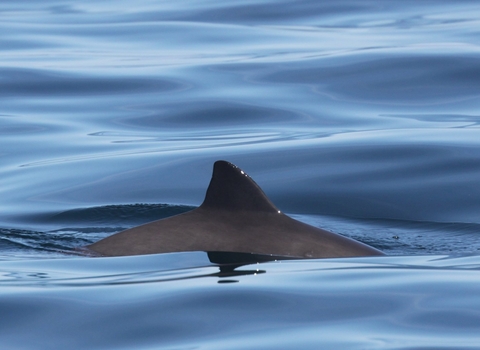 SeaWatch
Cetaceans are at risk due to continuous threats to them and their habitats, including capture and drowning in fishing gear, sound disturbance, marine pollution and over-fishing. Take part in the SeaWatch Foundation's monitoring programme as volunteer observers through regular surveys along the coast organized by the Somerset Wildlife Trust. We also offer training by Sea Watch experts in how to carry out monitoring and surveying of this important group of sea mammals.
Get involved
Stand up for your coast
There are lots of other ways you can get involved in standing up for your coastline. Find out more by clicking the drop-downs below. 
Events on Somerset's Living Coast
Join us to explore and learn about Somerset's coastline and its amazing wildlife. 
Contact our Living Coast team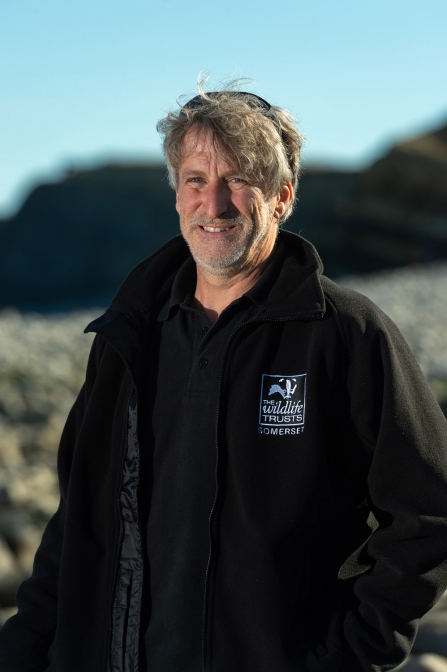 Mark Ward
Mark is a marine biologist and teacher with many year's experience as an environmental educator with a particular interest in marine and coastal environments. He has run courses and supported community engagement projects for people of all ages and from diverse backgrounds and is always keen to share his passion and knowledge of our seas, oceans and shorelines to help people appreciate why it is so important to look after them. He is the project manager of Somerset's Brilliant Coast project.
Contact: email mark.ward@somersetwildlife.org or call 01823 652400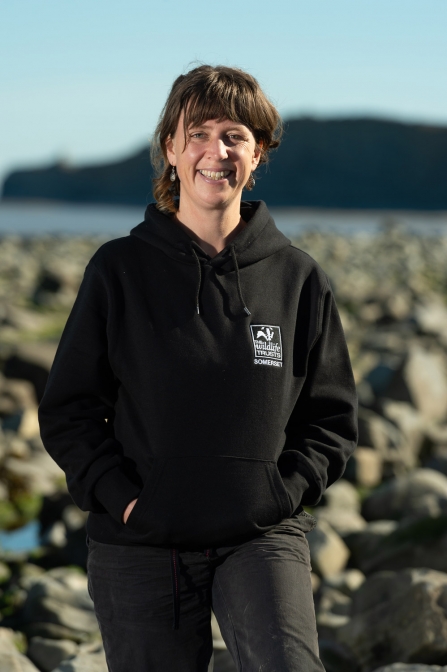 Tilda Gibbs
Tilda is an outdoor and environmental educator. She has a background in working with school children and young people using programmes such as 'Forest Schools'. She has recently been applying her skills in coastal environments mainly through the The Wildlife Trusts' national Wild Beach schools programme. She is the project officer of Somerset's Brilliant Coast project.
Contact: email
matilda.gibbs@somersetwildlife.org or call 01823 652400
Keep up to date with our work across the county
Sign up below to receive the latest news from Somerset Wildlife Trust, learn about great events near you and learn how you can help wildlife in your local area.