What is the Wild Paths Trainee Scheme?
Due to COVID-19, we have postponed recruitment for our third and final Wild Paths cohort of trainees until January 2021 at the earliest - we will make announcements on social media when we are open for new applicants.
The National Lottery Heritage Fund (NLHF) Skills for the Future (SFF) Programme has provided millions of pounds of funding to organisations that provide work-based training placements to meet a skills shortage in the heritage sector and help diversify the workforce.
This year the programme sees Avon, Devon, Dorset, Somerset and Wiltshire Trusts teaming up to give people the chance to apply for nine-month long training placements in practical conservation and engagement skills. The partnership will offer people from diverse backgrounds a chance to access entry into a career in the natural heritage sector, by offering a comprehensive work-based training plan and a bursary of £1000 per month, to pay for rent, bills, food etc whilst they are in training. Wild Paths was launched in 2018 and aims to deliver 30 placements across three years.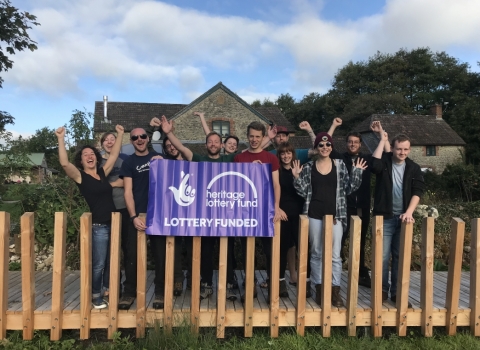 2018 Trainees
Find out more
The Wild Paths programme is coordinated by Dorset Wildlife Trust and applications must be submitted through them. 
For further information on Skill for the Future training programmes, please contact the Wild Paths Project Co-ordinator Rachel Janes on 01305 264620 or email rjanes@dorsetwildlifetrust.org.uk 
Twitter: @Wild_Paths