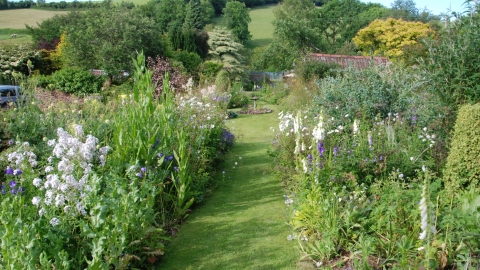 Somerset's Wildlife Garden: Elworthy Cottage
Location:
Elworthy Cottage,
Elworthy Cottage Plants, Elworthy, Taunton, Somerset, TA4 3PX
Mike and Jenny are very kindly opening their garden to share their wildlife gardening tips and ideas, and to offer you tea and cake whilst raising funds in aid of Somerset Wildlife Trust.
About the event
An inspiring, peaceful, one acre wildlife garden full of butterflies and bird song, at the eastern end of the Brendon Hills in West Somerset. It has been developed to blend sympathetically with the natural beauty of the surrounding countryside and to encourage wildlife.
They've constructed a small wildlife pond to encourage frogs and toads into the garden, once counting 35 frogs in the pond!  Some areas of grass are left to seed for the wildlife and in spring wild primroses abound. They've built a native hedge-bank planted with wild flowers, and have a large bird population, including many thrushes. In summer the garden is a haven for butterflies.
Self-service tea and cakes on the lawn, and after your visit, treat yourself to a beautiful cottage garden plant from the nursery.
Further information: www.elworthy-cottage.co.uk
Booking
Price
£4 for adults, plus donation for tea and cake. Children free.
Know before you go
Parking information
available in a nearby field