Celebrating our volunteers
The volunteer awards are presented at our AGM where we recognise outstanding individual, group and youth contributions and present lifetime achievement awards.
The volunteer awards recognise and celebrate all the hard work our volunteers across the county do throughout the year, every year, in all weathers, giving so generously of their time and skills.
Our volunteers are vitally important to us, without them we would cease to exist as an organisation. At our volunteer awards, we celebrate their achievements and recognise their dedicated work to support Somerset Wildlife Trust's aims of creating a Wilder Future for all.
How do I nominate a volunteer?
We are currently not accepting nominations until Summer 2020 for our 2020 AGM. Please watch this space and check back for more details and the nomination form which you will be able to download and fill in to nominate someone who goes above and beyond. 
Thank you! 
Criteria
The nominations should reflect how volunteer nominees have contributed to one or more of our current strategic aims.
Helping Nature recover across Somerset

Somerset Wildlife Trust manages nearly 70 nature reserves across the county covering 1,700 hectares of land. Our reserves provide a vital refuge for a wide range of wildlife in Somerset's connected landscape We are working to increase the amount and quality of wild places and ensure they are connected allowing wildlife to thrive and travel across connected wildlife rich landscapes.
Inspiring and Connecting people with nature

We know we cannot reverse the decline in biodiversity we are experiencing in Somerset without the support of the people who live and work here. High quality experiences in nature can inspire, change attitudes, motivate action and ultimately be a critical part of the movement to help restore our wild places and wildlife.
Stand Up for Nature

Across the county wildlife and wild places are under increasing threat from a range of issues. We need to inspire people to explore the wonders of Somerset's natural world for themselves and to take action – whether on one of our reserves or on their own doorstep.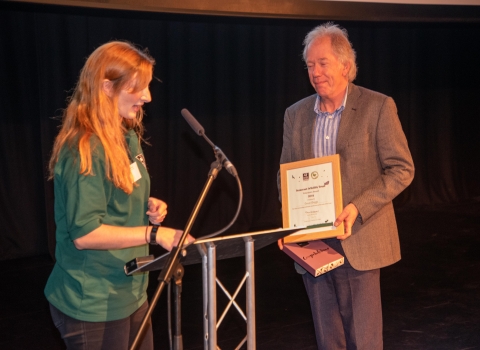 Outstanding individual contribution award
Awarded to Simon Briggs, for using his skills to respond to planning applications, making sure that adequate safeguards are put in place to protect wildlife, and objecting when the damage will be significant! In 2019 alone we have reviewed 255 applications and responded to 134 so far - and the majority of the responses have been done by Simon! Thank you for your hard work.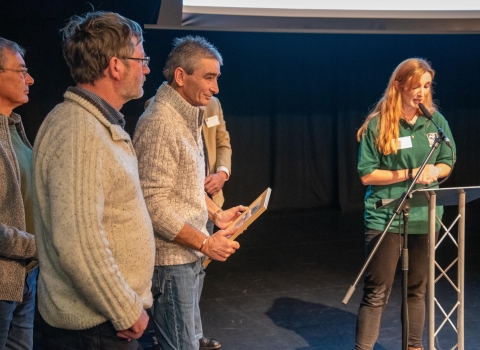 Outstanding group contribution award
Awarded to the Somerset Reptile and Amphibian Specialist Group for their work restoring a network of ponds in the Mendip Hills AONB to expand and connect a number of isolated subpopulations of great crested newts. By September 2019, 15 ponds have been restored, of which 5 are on Somerset Wildlife Trust reserves!
Lifetime achievement award
Awarded to Paul Williams, for volunteering with our Somerset Environmental Records Centre (based in SWT's head office) since 1992! He has entered hundreds of thousands of species records, tirelessly extracting data by hand from reports, record cards, books/publications and SERC files. Amazing!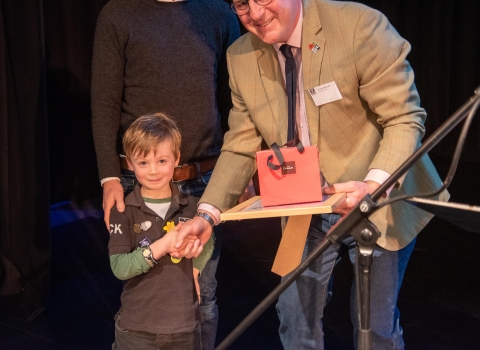 Young Wildlife Champion Award
Awarded to five year old Jack Davies for organising Somerset Wildlife Trust's first ever "Team Wild" challenge event - a 1 mile Run for Wildlife on our Westhay Moor National Nature Reserve in order to raise funds for the Westhay Appeal. Jack inspired over 30 people to take part and fundraise, including his local Kung Fu club who joined him by doing a "Kung Fu Mile". To raise extra funds, he baked footprint cookies, sold drinks that he got donated from Tesco and he charged friends and family for lunch. Jack has so far raised an amazing £541 and donations are still coming in!
Current rules
In terms of the rules around nominations for the awards, it currently stands that:
Anyone who volunteers for Somerset Wildlife Trust can be nominated
 Where applicable, volunteers can be nominated under more than one category
Volunteers may be nominated as a couple or as a team under 'Outstanding Group Contribution Award' if what they have achieved has been a joint effort and where it would not be appropriate to single out any individual
Any volunteer or member of staff can submit one or more nominations
Volunteers may only receive an award for the same role once in any five-year period
Trustees cannot nominate another Trustee
Volunteers may receive additional awards for different volunteer roles within SWT
Awardees will be chosen by a panel including: two Trustees, staff members representing conservation, volunteering and engagement.