Planning for development and nature
Did you know the government right now are proposing to radically change the planning system?
The current system desperately needs improving, but new reforms being proposed by the Government in its recently launched white paper 'Planning for the Future' could very well lead to further losses of wildlife, the habitats, green spaces and wild places that we love will continue to disappear, and our urban landscapes will look that much greyer
There's a real danger that your favourite bit of Somerset countryside close to your town or village, which you have used more than ever during lockdown, where you walk your dog or where your kids play, may well be lost to inappropriate development which hasn't been scrutinised as an outline planning application by your local community. Your chance to voice your views on the development that happens in your community is about to be taken away.
The current planning proposals are a far cry from what we really need at what is a tipping point for the natural world so please add your voice to ours. Seize this moment and fight with us to make sure the government use this opportunity to change the planning system for better not worse.
We are appalled that the Government's proposals for reforming the planning system in England are to 'tear it down and start again.'

It's a complicated matter
The English planning system has been in place for over 70 years, and has been tested, reviewed and honed throughout. Planning is a complicated practice which must take many different issues into account and engages many different sectors.
The current system in England is not perfect. But many of the aims that the Government has set out in the new Planning White Paper would be met by the current system – sadly failure is often in the implementation, not the system itself. Trying to oversimplify this complicated matter will lead to poorer decisions.
5 principles 
Based on their analysis, The Wildlife Trusts are calling on the Government to commit to five principles to be applied to future planning which would ensure the reforms can address the climate and ecological crises and people's need for nature around them. One of these principles would, for the first time, protect new land put into nature's recovery. For this, The Wildlife Trusts propose a new protection mechanism called Wildbelt.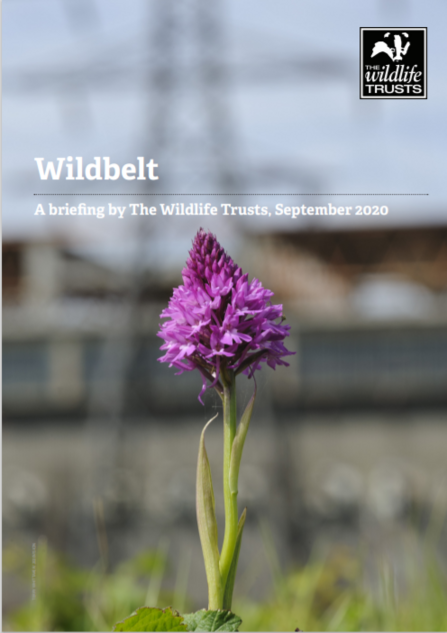 None of England's current landscape designations exist for the explicit purpose of protecting the space that nature needs for the future. The SSSI designation is critical for preserving land that has been identified as currently most important for wildlife. Others, like 'Greenbelt', are focused on protecting landscape and amenity value and do not directly consider biodiversity value. A new designation is needed to support nature's recovery. This would enable land that is currently of low biodiversity value to be designated for nature's recovery at scale, and so speed the creation of the Nature Recovery Network. This new designation would be called Wildbelt.
We're in a climate and ecological crisis and we cannot afford to lose any more wildlife. We must keep the environmental protections that we have – but even that is not enough. Protections must be strengthened, and the Government needs to take a big step towards helping nature to recover everywhere.

Chief Executive of The Wildlife Trusts
The UK is one of the most nature-depleted countries on the planet and the government has committed to reversing wildlife declines. A successful planning system is crucial to securing the recovery of nature and creating healthy communities with natural green space on people's doorsteps, no matter how dense the housing. However, The Wildlife Trusts, who respond to thousands of planning applications every year and are taking part in the White Paper consultation, believe the new Government proposals will make a bad situation worse.
As the Planning White Paper proposals stand, The Wildlife Trusts' key concerns are:
Failure to address the climate, ecological and health emergencies together
The new zones will not reverse nature's decline nor integrate it into people's lives
Inadequate nature data means that planners will make poor decisions about zones
The bias will be towards permitting new developments
Simplifying Environmental Impact Assessments will weaken environmental protections
Undermining the democratic process by reducing people's opportunity to influence the planning process
Don't let the government's new planning proposals take away YOUR voice in local community planning matters. Local Somerset resident and former planner, Mark Pollock, shares his concerns at the new planning proposals and urges YOU to share your thoughts too.
The new planning reforms currently propose an algorithm-based system that's dependent on non-existent data. That's a system that will fail nature and lead to more loss.

Chief Executive of The Wildlife Trusts