Mendip butterflies
Anyone who is a regular visitor to our Mendip Reserves, and the wider Mendip countryside will know that they are fabulous places to see an incredible variety of butterflies, including some of the country's most rare species such as the green-winged valezina form of the Silver-washed fritillary.
What does Making Space for Butterflies do?
The Making Space for Butterflies in Mendip project, was kindly funded through Aggregate Industries' Local Partnership Fund. It aimed to restore and enhance woodland and grassland habitat in both East and West Mendip on AI land to ensure that these very special places continued to provide high quality breeding habitats and rich food sources for all our butterfly populations to survive and thrive. 
The project enhanced and encouraged diversity at our Cheddar Wood Nature Reserve through coppicing and fencing works. In the East, wildflower grassland restoration on four AI-owned fields enabled the reintroduction of livestock grazing to prevent scrub encroachment and encourage further plant and insect variety. The project also included volunteer coppicing days and hedgelaying workshops, encouraging both local people and AI staff to learn and benefit from the landscape whilst carrying out important restoration work, ultimately strengthening the important, two-way, relationship between nature and community.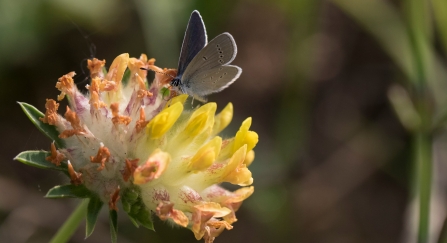 Hedgelaying
We ran hedgelaying sessions to promote the management of thick, dense hedgerows in the Mendip landscape that can help provide pollen and nectar, shelter and habitat corridors for a number of butterflies and invertebrates, as well as important habitat for mammals, birds and wildflowers. Hedgelaying can be a lot of fun and good for the soul. We hope participants came away from the day with the skills and inclination to continue to lay more hedgerows in Mendip in future!
Project report - click link below to download
Work kindly funded through Aggregate Industries' Local Partnership Fund