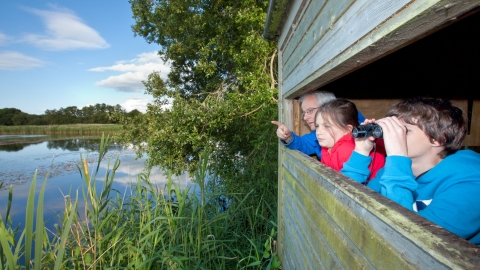 Westhay Moor National Nature Reserve
Westhay Moor is part of the mystical Avalon Marshes within Somerset's historic Levels and Moors. It provides a home for rare wildlife and a unique insight into thousands of years of shifting landscape.
Know before you go
Parking information
Reserve car park at ST 456 437 is reached via the minor road between Westhay village and Godney. Paths lead into the reserve from the car park. Disabled parking is available.
Bicycle parking
Bike rack available at the reserve. National Cycle Network Route 3 runs through the village of Westhay.
Grazing animals
Yes - Exmoor ponies and cattle present in summer and autumn.
Walking trails
Starting at the car park you will be met with the first signpost that will give you the choice of taking the 3km long Otter trail, marked by Otter footprints on way-markers, or the 1.6km Coot trail, marked by Coot footprints. Whichever trail you choose they both lead to the first hide of the reserve, the Viridor Hide, and following the Otter trail you will also be led to the Tower Hide, a great place to take in the view of reedbeds and wet woodlands of Alder and Willow.
Access
Access is along rights of way or permissive reserve paths only. There are some all weather paths but others can be very wet and muddy in winter. Several bird watching hides some with wheelchair ramps, see map.
Dogs
On a lead
Dogs not allowed on some parts of the reserve, see map. No dogs on mire and kept on leads on permissive tracks, see map.
When to visit
Opening times
Open at all times
Best time to visit
All year round
About the reserve
The lakes, reedbeds and woodlands of Westhay Moor provide a winter haven for many species of birds, some more unusual than others. The waterways regularly play host to diving ducks such as Goldeneye and Goosander. The reedbeds provide winter shelter for other important species such as Bitterns (which are resident all year and breed on site), whilst Siskins and Redpolls dart around the tops of the Alder trees
In the summer months, the reedbeds are alive with the sound of Sedge, Reed and Cetti's warblers which breed in the reeds and damp scrub. Westhay is also a great place to see and hear Cuckoos. Marsh Harrier and Bittern also breed here; the 'booming' call of the latter can be heard in spring and early summer. Also in summer, Hobbies may be seen hunting overhead for dragonflies. Mornings throughout the year are the best time to catch a glimpse of an Otter. Kingfishers can also be seen here at all times of the year.
On the wet raised bog, also known as mire, areas of the reserve you can see a range of plants now nationally rare due to land drainage. These include Meadow Thistle, Marsh Pennywort, Round Leaved Sundew, Nodding Bur-marigold and Skullcap and several species of Sphagnum mosses.
If you visit in early summer the white fluffy tops of Cotton Grass cover large areas of wet ground. Another spectacular sight is the many tall, pale green, Royal Ferns, the largest UK fern that can grow up to two metres high. Also look out for the aromatic shrub Bog Myrtle. Growing in and alongside many of the ditches you can find Ragged-Robin, Devil's-bit Scabious, Marsh Marigold, Greater Bird's-foot Trefoil and many types of rushes, sedges and reeds.
The network of ditches and small pools provide the perfect habitat for many types of dragonflies and damselflies to thrive here including Emperor Dragonfly, Brown Hawker, Hairy Dragonfly, Ruddy Darter, Common Darter and the Red Eyed Damselfly. It is well worth spending time watching over the pools here as dragon and damselflies dart around, hunting and egg laying in the water. Other insects using the pools are the Lesser Silver Diving Beetle and the Raft Spider, which not only hunts across the water surface but will also submerge itself to hide away.
Butterflies that you might see here are Common Blue, Brown Argus, Small Copper, Green Hairstreak, Speckled Wood, Meadow Brown and Dark Green Fritillary. The great diversity of habitat found here make this reserve a very special place for many insects including beetles, hoverflies and bees. Eleven types of bee have been recorded to date.
On sunny days Common Lizards can be seen basking on bare ground and logs alongside paths and Grass Snakes might be spotted hunting on land or in the water.
With autumn and winter come migrating birds escaping from harsh mainland Europe weather. Perhaps best known are the Redwing and Fieldfare, which come to feed on berry-bearing bushes. Siskin and Redpoll also come large numbers, often occurring in mixed flocks along with Goldfinches. In some winters, very large numbers of Starlings may use the reed beds here, amongst other places on the Levels, for their huge night time roosts. The larger areas of open water on the reserve attract several species of ducks including Goosanders, Goldeneye, Gadwall, Wigeon and Teal as well as the commoner Mallard and Tufted Ducks.
Herons at Westhay
It's not just the Grey Heron that is likely to be seen on the wetlands at Westhay. Look out for Great White Egret, Little Egret, Cattle Egret, Bittern, Little Bittern and Night Heron. To be able to have a chance to see such an amazing array of birds in the heron family is a tribute to the imaginative conservation work creating high quality wetland habitat across the Avalon Marshes area that has taken place in recent years. To feed, breed and thrive these birds need very large areas of reedbeds which grow here.
Vast areas of raised bog (or mire) were a distinctive feature of the area know known as the Avalon Marshes until the early 19th century. Almost all has been lost through peat digging and agricultural improvement, along with much wildlife that occurred in it. However, Westhay Moor now protects one of the largest surviving fragment of lowland acid mire in South-West England. Look out for the peat totem pole which dictates the height of the peat when it stopped growing and measure how long it takes to grow your height in peat!
The purchase of the first part of Westhay Moor in 1970 by the Somerset Wildlife Trust was a pivotal moment in the creation of the Avalon Marshes area that we see today. Establishing this reserve, enlarged by later acquisitions, and providing access for members and the public to see the wonderful wetland wildlife that only just survived on the Levels, has proved inspirational to many.
The creation of the Westhay reserve, and the nearby Catcott reserve, undoubtedly helped to create the groundswell of enthusiasm that pushed for more wildlife conservation on the Levels and Moors. This in turn set in motion the birth of the nationally important Avalon Marshes complex of nature reserves that we find today.
Parts of Westhay Moor have had peat extracted and these are the areas that are now open water. Peat has been dug on the Somerset Levels since the area was first drained by the Romans. Measures to improve the drainage were carried out in the Middle Ages largely by Glastonbury Abbey. In the 17th and 18th centuries further drainage work was undertaken including digging a series of rhynes, or ditches and larger drainage canals. Fortunately Westhay Moor, which was designated as a National Nature Reserve in 1995, can still give visitors an insight into the landscape as it might have been in Medieval times; vast reed-beds, lakes and pools, wet woodlands and raised bogs. And above all, it is now a nature reserve teeming with wonderful wildlife.
Natural England's Shapwick Heath reserve and RSPB Ham Wall are also close.
Environmental designation
National Nature Reserve (NNR)
Ramsar
Special Site of Scientific Interest