Life, memories and wildlife
Celebrate your life, memories and continue caring for wildlife through a gift in your Will to Somerset Wildlife Trust.
If you decide to leave a gift to Somerset Wildlife Trust, it's straightforward to include this in your Will. All you will need to take is the following information to your Financial Advisor:
Our address: Somerset Wildlife Trust, 34 Wellington Road, Taunton, Somerset TA1 5AW
Our registered charity number: 238372
More and more of our supporters are choosing to ensure that their own memory lives on by making arrangements for a future gift that provides an important and valuable source of support for the work of Somerset Wildlife Trust.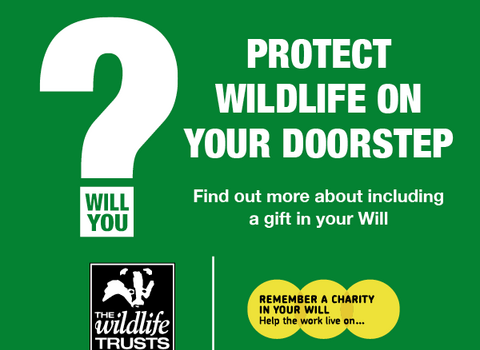 Remember a Charity Week
This year's Remember A Charity Week runs from 6 to 12 September 2021. Remember A Charity Week is an opportunity for charities like ourselves to come together and encourage more people to consider leaving gifts in Wills, after taking care of family and loved ones. Three quarters of Britons regularly give to charity in their lifetimes, yet only 6% currently include a charity when writing a Will. Nevertheless, gifts in Wills are still the foundation of many of Britain's charities, creating almost £2 billion each year, the equivalent of 19 Comic Reliefs. Without this income, many charities like Somerset Wildlife Trust would simply not exist and would have to cut crucial services.
It's really easy to write or update your Will, and if the time is right for you to write yours, the Co-op Legal Services team are offering 20% discount to our supporters as part of an exclusive Remember A Charity Offer. For more information, please click here or contact our Legacies Manager Lucy Marsh on lucy.marsh@somersetwildlife.org
Learn more about Remember a Charity Week
Anyone who cares about wildlife has a marvellous opportunity to do something quite unique, by remembering their local Wildlife Trust in their will.

This generous act is one of the most important things you can do to make sure the species and habitats we love will be there for future generations to enjoy.
The future is far too important to be left to chance
Our county's many precious wildlife habitats are home to a rich variety of wildlife and, that is why Somerset Wildlife Trust has a recovery plan for nature here in Somerset; we call it Living Landscapes. To create robust landscapes in the long-term we need to restore, recreate and reconnect wildlife habitat across the county. If we don't protect Somerset's natural heritage, it could be lost forever. So, after you've made provision for your loved ones, please consider a Gift in your Will to Somerset Wildlife Trust.
Why include us in your Will

Somerset Wildlife Trust is the county's largest conservation charity and all the funding we receive is spent on rescuing and restoring Somerset's wildlife and wild places. Since 1964, we have been working across the county to ensure it remains one of the most varied and wildlife-rich places to live, work and explore.

However, only 27% of our income comes from membership subscriptions, therefore we rely heavily on donations, including gifts in Wills, to continue our challenging work of protecting the wildlife and wild places of Somerset. And, given the uncertain times we are operating in and the expected decline in other funding sources, the income from gifts in Wills is more vital to our work now than ever before.
How your gift might be spent

Gifts in Wills have enabled us to plan for future projects, react to emergency situations, buy land adjacent to our reserves to create wildlife networks and engage with schools and local communities.

Small or large, EVERY gift in every Will is valuable to us. Some are expressed as cash or a share of an estate. All are welcomed and will be used to support our work.

Even a gift of 1 percent of your estate could make a real difference to our work and, the great thing is, it does not cost you anything now and allows you to continue supporting our work well into the future. You could even save on inheritance tax if you leave a gift to charity.
Our promise to you

We will not put pressure on you to include us in your Will – it is your decision
We will never ask you the size or type of gift if you decide to support our work this way
We absolutely recognise your loved ones come first in your Will
You never have to tell us your intentions – we respect your right to privacy
We fully understand that personal circumstances change and there might be a time when you must take us out of your Will
We will use your special gift wisely and effectively
Make a pledge

Gifts in wills are really important to Somerset Wildlife Trust. By filling out the pledge form below you are not committing yourself and the form is not legally binding! By informing us of your intentions, you are simply allowing Somerset Wildlife Trust to confidently estimate future support for its cause.
It's easy to update your Will

If you have already made a Will, but you want to leave a gift to a charity you can make an addition or change it without re-writing your current Will. This addition is called a codicil (or you or your executors could use a deed of variation or letter of wishes).

To leave a gift in your Will to Somerset Wildlife Trust please download the codicil form and take it along to your solicitor. Please note, however, that this form is not legally binding on its own and has to be part of your main Will. We advise you to seek the advice of a solicitor.

Download the codicil form
Save on inheritance tax

At present, anything given to a legal spouse (including those joined under a registered Civil Partnership) or a registered charity is exempt from Inheritance Tax and including these in your Will may help to reduce the liability to tax. We recommend that you consult your solicitor or adviser, who will be able to suggest the most tax efficient planning methods for you in your own particular circumstances.
Please let us say thank you
If you want to remember Somerset Wildlife Trust in your Will, we can provide you with more information about how to do it. We would also like the opportunity to say thank you in advance and to get to know you. This enables us to know how best to honour your life through a gift in your Will. Please let us know by completing our pledge form.
Having been members of the Somerset Wildlife Trust for very many years and witnessed the brilliant conservation work they do, we feel the least we can do is to remember the Trust in our Wills. We hope that our gift will help the Trust continue their excellent work in safeguarding Somerset's wildlife for future generations to enjoy.
On my first visit to the Levels I saw an otter for the first time in my life, heard bittern booming, and watched a marsh harrier hunting over the reeds. I have been hooked ever since. Somerset offers so much, with a huge variety of habitat, from coastline to moorland, woodland and marshes. It is an inspiration to me and, I believe it is vital that the landscape is sensitively managed for wildlife. For me, if we do not have these wild places to explore, then we have nothing – this is why, I have made a gift in my Will to Somerset Wildlife Trust.
Thank you
Our supporters like Mike, Angela and Chris care deeply about Somerset's wildlife and the green spaces; both are an integral part of what makes up the beautiful county of Somerset.  Somerset Wildlife Trust shares this vision and works with people and wildlife to maintain something very important — a bright future for Somerset's wildlife.
We are so thankful that you are considering including the wonderful gift of restoring and preserving Somerset's wildlife and wildlife habitats in your Will.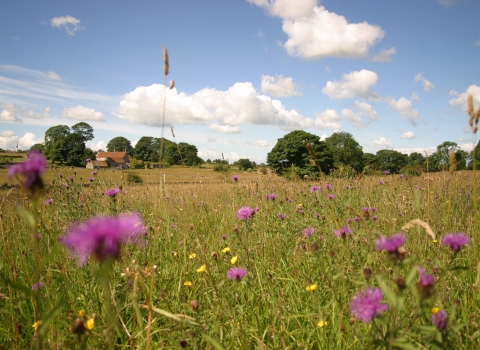 Chancellor's Farm
Traditional hay-cuts in our meadows create colourful displays of wildflowers in summer, a paradise for butterflies and bugs. Our Chancellor's Farm Nature Reserve on the Mendips offers an unusual mixture of lime-rich, neutral and acidic areas, which support a wide range of species including many less common plants such as Fragrant Orchid and Meadow Saffron, as well as the more familiar Bluebell, Herebell, Betony and, Great and Lesser Knapweed.
An amazing gift to local wildlife
If you are planning to include a Gift in your Will to us, or have already done so, we would be grateful if you could complete the details below.