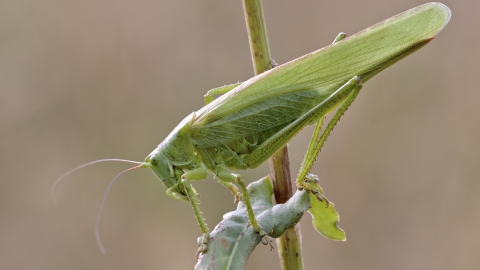 This reserve is managed as cultivated fields to maintain rare arable plants. A unique assemblage of cornfield flowers can be seen here in summer.

Location
Know before you go
Parking information
No dedicated reserve parking and lanes are very narrow but some roadside parking possible in Cathanger Lane. Do not block any gates as all are used daily. Entrance to the reserve is from Cathanger Lane at ST 338 226.
Grazing animals
No
Access
Grass field margins.
Dogs
Under effective control
Visit the 'Dog walking on reserves' page in the Contact section for more information.
When to visit
Opening times
Open at all times
Best time to visit
April to July
About the reserve
This site has one of the most important assemblages of rare arable weeds in Britain. Arable weeds in general have declined dramatically over the last 100 years as a result of intensive agricultural practices, and many which were widespread in the recent past are now very hard to find.
The reserve is situated on a gentle, south-facing slope on calcareous clay soils which have developed from the underlying Jurassic shales.
The fields contain a wide variety of arable weeds, several of which are now nationally rare or scarce. There is a large population of the nationally rare Broad-fruited Cornsalad which is included in the Red Data Book of Rare and Endangered species in Britain. This is now the only site for this species in South West Britain and only one of about ten known in Britain. There are also populations of Shepherd's Needle, Corn Parsley and Corn Buttercup, which are all now nationally scarce and have experienced substantial declines in distribution in recent years.
Other nationally scarce species found here are Broad-leaved Spurge, Spreading Hedge-Parsley, Narrow-fruited Cornsalad  and Slender Tare. Other uncommon species found on this site are Small Toadflax, Dwarf Spurge, Sharp-leaved Fluellen  and Round-leaved Fluellen. Skylarks regularly nest within the fields. Brown Hares have been recorded. A number grassland butterflies are present including Marbled White and Common Blue, and the Great Green Bush-Cricket also occurs.
Reserve conservation management – Our management focuses primarily on maintaining the arable plant populations, which are annuals whose seeds mostly germinate in the autumn on disturbed, bare ground. We therefore cultivate three of our four management compartments, on rotation, each year in the autumn and leave them fallow. The fields are plough to a standard depth of about 30cm and then worked down to a fine tithe by a power harrow or similar machine.
Environmental designation
Site of Special Scientific Interest (SSSI)
Fivehead Arable Fields documents