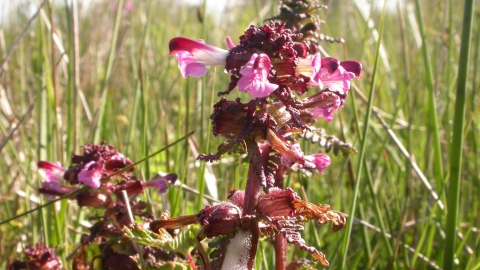 The steeply sloping higher ground to the west supports dry grassland species whereas the low damp east side supports a range of waterside plants. Also look out for evidence of Medieval and Roman opencast mining activities which were carried out here.
Know before you go
Parking information
No formal car park. Roadside parking is available within 500 metres at Harridge Woods entrance off the A367, Nettlebridge.
Grazing animals
Cattle graze the grassland throughout spring and summer to keep vegetation low, allowing flowering plants to thrive.
Walking trails
Steep/narrow paths. Boggy areas liable to be slippery. Extremely wet in the wetter months along the river. Stiles. Watch out for site management activities.
Access
The paths and tracks have uneven surfaces in places and can be slippery or very wet and boggy. The lower path may flood. There are areas of natural rock face on the reserve so please take care to avoid any unprotected drops and be aware of the potential for falling rocks.
Dogs
On a lead
Visit the 'Dog walking on reserves' page in the Contact section for more information.
When to visit
Opening times
Open at all times
Best time to visit
April to July
About the reserve
The majority of the reserve is made up of two fields of neutral, species-rich grassland on undulating and sloping land. Most of this area is relatively dry and contains abundant grasses including Sweet Vernal and Crested dog's-tail with a great diversity of herbs including Lousewort, Yarrow, Black knapweed, Devil's-bit Scabious and Lady's Mantle. The strip of land along the western bank of the Mells Stream is very wet and contains abundant sedges, rushes and reeds as well as Meadowsweet, Marsh Marigold, Ragged Robin, Marsh Stitchwort and Water Avens.
The western margin of the reserve is made up of a strip of deciduous woodland in which Ash is the dominant tree. Wych Elm, Hazel and Holly also occur and the woodland floor is dominated by Ramsons and Dog's Mercury. 
Badger setts occur within the woodland and hedgebanks and these animals use the whole site for foraging. Foxes also breed here. A number of bat species, including Serotine and Greater and Lesser Horseshoe have been recorded around the reserve.
Roe deer and Grey Squirrel also occur. Otters are recorded as using the Mells Stream as are Dippers. Resident birds include Great and Blue tits and Chiff Chaffs; Willow Warblers regularly turn up in Summer. All three woodpeckers Green, Greater Spotted and Lesser Spotted have been seen in the reserve.
Visit in summer to see butterflies like the Meadow Brown and Speckled Wood and the day flying Chimney Sweeper Moth.
Reserve conservation Management - Cattle graze the grassland throughout spring and summer to keep vegetation low allowing flowering plants to thrive. Grazing infrastructure is maintained and invasive species are controlled to ensure they do not dominate the grassland or woodland. Along the edge of the woodland the fields are managed as woodland edge, which along with the scrub on site, provides plenty of shelter for insects and birds. The woodland is managed to retain good structure and ground flora.
History and Archaeology - The whole site is a Scheduled Ancient Monument. The site contains numerous features of national historical interest including the remains of Medieval and Roman opencast mining activities. The shaped earthworks and spoil mounds you can see survive from opencast coal mining activities by the Romans.
It is likely that coal was extracted and transported on the nearby Fosse way, possibly then taken to be burnt at Aquae Sulis (Bath).
Look out for the gin-circle, a distinctive circular earthwork remaining from a horse powered winder or pump.
Environmental designation
Scheduled Ancient Monument