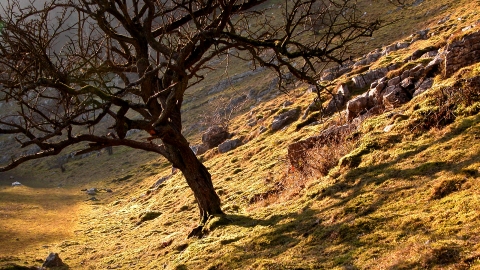 The paths through our Long Wood reserve will be closed throughout winter 2021/22. 
Three SWT reserves make up the Cheddar Complex; Black Rock, Long Wood and Velvet Bottom. The complex offers a chance to explore the desolate beauty of the Mendip Hills. The remote landscape is fractured with traditional stone walls and offers panoramic views across the Levels and Moors. The area is famous for its caving and the spectacular Cheddar Gorge which runs close to the reserves.

Know before you go
Parking information
No car park. Roadside parking at reserve entrance off B3135 at ST 482 545. Also park in Cheddar, walk up the Gorge to Black Rock and then back round to Cheddar through NT land and along public footpaths high up on the north side of the gorge.
Bicycle parking
National Cycle Network routes pass a mile to the east (through Charterhouse) and south-west (through Cheddar) of Black Rock.
Grazing animals
Cattle and sheep grazing on the grasslands.
Walking trails
Black Rock: Has a green trail of 1.6km and a longer red trail of 2.4km, both of which take you on a trip through history and uncover the reserve's industrial heritage. You'll walk past the Limekiln which was built in 1929 and further along you will come across the former quarry. Once you have made it up a slope and then continue to follow the path to one of the highest points of Black Rock you are rewarded with far-reaching views, stretching from Somerset to the North Devon's coast. Here you can pick up the shorter trail or carry on through beautiful woodland. From here you can also extend your walk by going into our Velvet Bottom reserve.
Velvet Bottom: You can take a linear walk through this reserve which is 1.7km one way, and leads you to Charterhouse and another Somerset Wildlife Trust reserve; Ubley Warren. The well-marked trail follows the bottom of the valley which has had a connection with lead mining since pre-Roman times, and along the way you can take a look inside the two small caves. As you walk through the reserve you will see a series of dams and levels, a reminder of the lead mining that used to take place.
Paths are often wet and muddy. Do not enter swallet or cave entrances.
Access
Care is needed as there are many pits and mineshafts left as a legacy of extensive lead mining. You are advised not to allow children or dogs to run free and keep them out of depressions, the bottoms of which may give way.
Contact the Trust for further access information.
Dogs
On a lead
Visit the 'Dog walking on reserves' page in the Contact section for more information.
When to visit
Opening times
Open at all times
Best time to visit
April to August
About the reserve
The south entrance to the Cheddar Complex takes you into Black Rock which is the first of the three linked reserves to explore; you will also visit Long Wood and Velvet Bottom.
BLACK ROCK
Above the spectacular cliffs and caves of Cheddar Gorge, and rather hidden away is a side valley, on a smaller scale than the Gorge itself, but still a very dramatic landscape. The reserve is a wonderful mosaic of woodland, grassland, open rock communities and scrub.
The woodland here is mainly Ash with Hazel growing beneath it, but this is a tough place to grow and there are many gaps where there is no soil or it is too thin for much to grow. Some plants however, over many thousands of years, have adapted to grow in bare rocky conditions and Black Rock is where you can see some of them. The bare limestone rock outcrops and scree slopes that occur along the valley sides are home to some of the UK's rarest plants including Angular Solomon's-Seal, Rock Stonecrop, Cheddar Bedstraw and Limestone Fern. If you visit in spring before the woodland canopy thickens up Wild Garlic and Bluebells can carpet the woodland floor.
Not all plants need lots of sunlight, and the damp and shady conditions here suite many types of ferns, mosses and lichens. In particular, hard to tell apart mosses, can completely cover the dry stone walls and rocky outcrops in a greenish mat. Look out for the small and rather dainty Rusty Back, Wall Rue and Maidenhair Spleenwort ferns. Also growing in shady places but anchored in the ground and making substantial clumps are Male Ferns, Soft Shield Ferns and Broad Buckler Ferns.
All year round this woodland is home to Greater Spotted Woodpeckers, Jays, Marsh Tits, Nuthatches, Treecreepers and also Redpolls, which seem to spend most of their time high in the tree tops. In Spring and Summer Redstarts may also be found here as well as Blackcaps, Whitethroats, Chiff Chaffs and Willow Warblers. Overhead Buzzards, Kestrels and Ravens are regular, and there is a good chance of Peregrines too, the local Jackdaws may alert you to their presence by making a lot of noise and mobbing them. Badgers live in this woodland and so do Dormice, which often use the bark from Honeysuckle to make their ball shaped nests
As you progress up through the woodland from the car park, the valley eventually widens out, the woodland thins out and you emerge into grassland. There are also steep cliffs and old quarries here, please don't forget that this is very much a wild landscape now. The cliffs do crumble, stones do fall from them, do not sit under the cliffs or try to climb them. The remains of the buildings here are old limekilns.
These steep, south-facing grassy slopes support flower-rich limestone grassland. Many of the plants found growing on these thin soils are very diminutive. Typical are Sheep's-Fescue grass, Quaking Grass and Wild Thyme. Early in the year Spring Cinquefoil can be seen flowering and then later on Common Rock-Rose, a very low growing plant with showy bright yellow flowers. Pollinating insects and nectar-feeders are abundant on warm days and include such species as the spring-flying Brimstone, Green Hairstreak and Dingy Skipper butterflies and then later in the year Common Blue and Dark Green Fritillary, and the day flying Cinnabar Moth. The short turf and rocky habitats here make good places for reptiles to sunbathe and Adder, Grass Snake, Common Lizard and Slow Worm all occur within the reserve.
Reserve conservation management – Cattle and sheep grazing on the grasslands. Removal of non native trees. Coppicing of Hazel and other shrubs. Dry stone wall repairs. Maintenance and restoration of calcareous grassland by clearing and controlling scrub growth.
History and Archaeology – There are two limekilns at Black Rock, one of which, on the drove, the main path you walk up, has been restored. The main quarry was last worked in 1935. The restored lime kiln was built in 1929 whilst there was still active quarrying on the site. The lime kiln was used to heat the quarried limestone rock along with coal or charcoal to produce lime. The lime was then used either as building mortar or was spread on surrounding fields to prevent the soil from becoming acidic.
Did you know the name Black Rock is derived from the fact that the type of limestone here is classified as Black Rock Limestone. The freehold of Black Rock is owned by the National Trust but it is leased to the Somerset Wildlife Trust who carry out all the management and biological survey work.
LONG WOOD
Spring is the best time to visit the reserve for its flowers.
 In late spring and early summer the woodland floor is covered with Bluebells, Wild Garlic
and Dog's Mercury. Also scattered through the wood you will find Primroses, Early Purple Orchids, Yellow Archangel and Wood Anemone. 
Due to the valley bottom being rather deep and shady humidity can be high which encourages the growth of moisture loving plants, including the Opposite-Leaved Golden Saxifrage and many ferns and mosses. The rather uncommon Herb Paris is found in abundance on the western side of the wood.
Much of the wood is Ash and Hazel, but in the early 1950's some of the wood was clear-felled and replanted with beech and some conifers in rows. The Trust is working to remove most of the planted beech and conifers to encourage the re-establishment of more Ash, Hazel, Sallow and other trees and shrubs that grow naturally on Mendip.
Hole nesting Great Tit, Blue Tit and Marsh Tit are numerous and very much at home in this wood, as are Green and Greater Spotted Woodpeckers, Nuthatches and Treecreepers. During summer Redstarts, Blackcaps, Willow Warblers and Chiff Chaffs come to nest in the reserves woodland and scrubby thickets. At any time of year you are likely to see, often high overhead, Buzzards, Kestrels, Ravens and also Peregrines which nest on the steeper cliffs in the area.
At the southern end of the reserve are some small areas of flower rich limestone grassland which are visited by a wide range of insects, including Marbled White and Meadow Brown butterflies. Common Lizards and Adders can also be seen basking in this part of the reserve.
An unusual feature in the northern end of the reserve is the stream that runs through the wood before disappearing underground into Long Wood swallet. Please do not try to enter any caves or sink holes! The low growing, stream side specialist Opposite-Leaved Golden Saxifrage grows abundantly here and is most noticeable in Spring as it comes into flower.
Your visit to Long Wood can be combined with SWT Black Rock which is great for exploring rocky outcrops, as well as it's flower rich limestone grassland and SWT Velvet Bottom which lies on the floor of a dry river valley, and is filled with rough grassland and pockets of woodland and scrub. Walking through you will see lots of evidence of its lead mining history, and you can easily extend your visit to SWT Ubley Warren reserve which is home to a wide variety of butterfly species.
Reserve conservation management – The majority of the wood was felled in 1953 and replanted with Beech and some conifer. Ash and Oak, with a predominantly Hazel and Field Maple understorey has since re-colonised the wood in large areas. Thinning of the woodland canopy trees allows extra light to reach the woodland floor to help maintain the diverse ground flora. Occasional Hazel coppicing and annual glade cutting helps to provide open spaces for butterflies such as the Silver Washed Fritillary. The Orchid slope is grazed in late summer which helps to keep the vegetation low to allow flowering plants to flourish.
History and Archaeology - The known history relating to Long Wood starts in medieval times. It is possible that the reserve site was not wooded in the 12th Century as a charter, during the reign of Henry II, allowed the Carthusian Monks of Witham Priory to use land in the forest at Charterhouse for pasture. However, by 1761 most of what is now the reserve was wooded. In Long Wood there is an ochre pit (where earth pigment was dug from the ground) and also various other pits showing evidence of removal of stones for the dry walls. In the early 20th Century Axbridge Rural District Council (ARDC) acquired Long Wood and by the middle of the century were selling trees as firewood prior to a replanting scheme.  In 1950 Bristol Waterworks bought from ARDC the water undertaking (underground pipe running through Long Wood and Black Rock Drove to Cheddar) and hence Long Wood. Beech, Larch and Corsican Pine were planted soon after. Long Wood was leased in 1969 by Somerset Trust for Nature Conservation from Bristol Waterworks and one of its aims then was to remove any exotic species and to encourage a more diverse ground flora by rotational coppicing of the Hazel, Field Maple and Ash. In 1999 Long Wood was bought from Bristol Waterworks by the Somerset Wildlife Trust.
Access and Safety
•             The paths and tracks have uneven surfaces in places and can be slippery in areas of exposed rock.
•             During periods of high rainfall the swallet may overflow and flood water will flow down the valley. Do not walk through flooded areas as the water may be deep in places and contain hidden hazards.
•             The cave entrances on the reserve are locked and access is controlled by the Charterhouse Caving Company.
VELVET BOTTOM
The reserve is dominated by extensive areas of rough grassland. Lead contamination as a result of mining activity over the centuries has prevented tree and scrub growth, and the grassland is relatively species-poor. This type of grassland is known as Calaminarian Grassland. High levels of lead are toxic to most plants, but over a long period of time, a small but select group has colonised the lead slag heaps that are found in the middle of the reserve. In early spring, mats of Common Whitlowgrass a tiny, white-flowered crucifer, are abundant on dry banks of bare slag, along with Herb Robert, and occasionally, Spring Sandwort which is a rare plant in southern England and which on the Mendips is nearly always associated with old lead workings. You can also find Spring Cinquefoil and Rock Stonecrop.  At the north-east end of the site, there is an area where the grassland has a more acid character, with Purple Moor Grass, Gorse and Common Heather. These acidic soils are also where you can find the uncommon Meadow Saffron, the attractive pink flowers of which can be found in September among the Bracken.  Also In late summer look out for deep purple Devil's-bit Scabious
Damper ground associated with old settling beds, buddle pits and other depressions are defined by the presence of Cuckooflower, the purple stemmed Wild Angelica, Marsh Thistle and other typical species of marshy grassland.
Short, rabbit-cropped limestone turf occurs in a few places, and a wide diversity of typical herbs and grasses are present, including Carline Thistle and Common Spotted Orchid.
Silver Washed Fritillary, Meadow Brown, Gatekeeper, Marbled White and Common Blue butterflies all occur and also several species of grasshopper. The rocky ground with lots of places to hide way make this a great place for reptiles and there are large populations of Adders and Common Lizards. Slow Worms and Grass Snakes can also be found. There are lots of resident birds here such as Great, Blue and Long Tailed Tits, Chaffinches and Blackbirds, and in the spring migrant birds arrive to breed in the woodland and scrub. Look and listen out for Chiff Chaffs, Willow Warblers and Redstarts.
Reserve conservation management -  Grazing stock help to maintain the grassland areas, keeping the vegetation low so that a variety of  flowers can grow, as well as preventing scrub species such as bramble and hawthorn from encroaching. Grazing is timed carefully to avoid periods of wet weather, when lead levels in the soil can rise to potentially poisonous levels. But only if you eat the grass!
History and Archaeology - The industrial history of the site is part of what makes it so special. Velvet Bottom was mined for lead as far back as Roman times, with more recent mining by the Victorians leaving the buddle pits  (circular washing pits to separate lead ore), dams and settling beds that can still be seen today. The top end of the reserve is scheduled as an Ancient Monument to protect the Victorian lead workings. The high concentration of lead in the soil prevents most plants from growing, so the flora of the site is unusual, with only specially-adapted plants able to survive. A significant area of reserve is part of the Charterhouse lead works Scheduled Ancient Monument.
Velvet Bottom Reserve is situated on the floor of a dry river valley, one of many that dissect the plateau of the Mendip hills. The underlying rock type is Karst Carboniferous limestone with an accumulation of soil, originally loess (wind blown soil) but reformed by mineral working, on the valley floor. There are several areas of exposed rock and small shallow quarries with vertical fissures. Although quarrying has taken place at Velvet Bottom it was predominantly used as an area to retain worked mine spoil from the close by Charterhouse lead mines. During Victorian times the lead spoil in the north eastern part of Velvet Bottom was reworked to extract lead. 
This area has been worked for lead since Roman times until the late nineteenth century. The most recent working on the site was carried out by the Mendip Hill Mining Company which was operational from the 1840's to the 1880's. This has left the site with a series of structures associated with the mining and processing of lead spoil. These include spoil heaps, now partly vegetated, the remains of buildings and buddle pits (lines of large circular depressions). Lead ore was broken up and placed in the buddle pits, and the water was then stirred so that the lighter particles went to the outside and were discarded while the heavier material which contained the lead stayed at the centre. The buddled material was then smelted. The water from the buddles originally flowed underground to Cheddar. The high lead levels in the waters led to complaints about the death of fish because of the high lead levels in the water. The mining company was forced to build large settling areas (levels) separated by stone-faced dams at the south-west end of the site. The waste material would build up behind each dam in turn and the water flow would be slowed sufficiently for the heavy lead sediment to drop out of suspension. The washing floor remains, including the buddles are a rare survival in England. Part of the site was designated as a Scheduled Ancient Monument (SAM 508) by the Department of the Environment in August 1983. 
Environmental designation
Site of Special Scientific Interest (SSSI)
Cheddar Complex documents