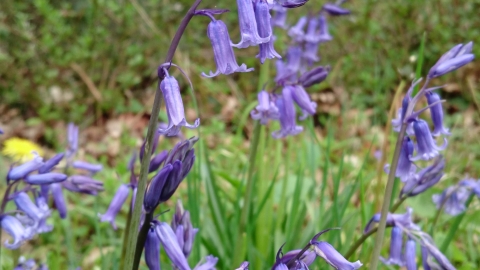 A series of traditionally managed fields around the buildings of Chancellor's Farm and providing an outstanding example of some of the flower rich grassland communities associated with the higher parts of the Mendip plateau, which have now become very scarce. Please note the reserve is Permit Only.
Know before you go
Access
Access to the site is by permit only. 
When to visit
Opening times
Permit only
Best time to visit
Spring and summer
About the reserve
Chancellor's Farm is held by SWT on a lease from Wessex Reserves Forces & Cadet Association [MOD]. The farm is managed for SWT by a grazing contractor who is also a tenant in the Chancellor's Farm farmhouse.
This unspoilt, historic landscape remains an active working farm. The meadows are an unusual mixture of lime-rich, neutral and acidic areas which support a wide range of species. These include less common plants such as Fragrant Orchid and Meadow Saffron, as well as more familiar flowers such as Bluebell, Harebell, Betony, Hay Rattle, Greater and Lesser Knapweed. Both Common Spotted Orchid and Heath Spotted Orchid grow in abundance and often sport hybrids.
The site comprises a mosaic of habitats including neutral to acidic hay meadow, neutral to acid marshy grassland, wet and dry heath and a young orchard situated around Chancellor's farm buildings. There are shelterbelts and spinneys with mature trees and the boundaries are predominantly dry stone walled.
Much of the grassland is of a type characterised by Sweet Vernal Grass, Red Fescue, Common Bent, Pignut and Sorrel.  Betony, Heath Spotted Orchid and Fragrant Orchid are also prominent, and Purple Moor-grass and Green-ribbed Sedge are noticeable in the damper areas of the more acidic field to the west of the farmhouse. The abundance of Bluebells outside a woodland habitat is uncommon in Somerset. 
On the western side of the farm is an area of wet and dry acidic heath/grassland with abundant Fescue grasses, Soft Rush (Juncus and Purple Moor-grass. Patches of Gorse and Bracken occur, while species like Heath Bedstraw, Lousewort and Green-ribbed Sedge are also present.
The fields on the southern side of the B3135 show a gradation from dry to marshy ground with plant species such as Yellow Rattle, Twayblade Orchid, Devil's-bit Scabious and Adder's Tongue Fern. These fields slope down south eastwards toward a small, slow-flowing stream where the damper conditions support such plants as Marsh Marigold, Meadow Thistle, Fen Bedstraw and Devil's-bit. 
The reserve also features two shelterbelts and two spinneys of mature trees, mostly Sycamore with some Beech and Ash.  The boundaries of the reserve consist mainly of dry stone walls, but some contain old lime mortar which supports plants such as Rue-leaved Saxifrage as well as a range of ferns including Brittle Bladder Fern, Wall Rue, Rusty-back Fern and Maidenhair Spleenwort.
Badgers and Brown Hares are present and a range of bat species, including Brown Long-eared, Pipistrelle and Serotine hunt over the grassland and inhabit the buildings.  A number of uncommon farmland and heathland birds breed or overwinter with species such as Redstart, Linnet, Yellowhammer, Grasshopper Warbler, Wheatear, Whinchat, Stonechat, Little Owl and Barn Owl.
There are several ponds but only one holds water all year. This supports breeding populations of Great Crested Newts and Smooth Newts. Adders and Grass Snakes occur. 
Reserve conservation management - The meadows are cut for hay in summer, which is then used to feed livestock on the farm over winter. These include a herd of Ruby Red Devon cattle.
History and archaeology – In 1934, the 80 acre Chancellor's Farm was purchased by the Territorial Army. The MAF survey of the time records that the tenant, Henry Watts, had 15 cows and heifers in milk, one heifer in calf, one bull and thirteen other cattle. 37 acres were shut up for hay during the summer months while the cattle grazed the ranges. There were 5 acres of oats, 1.5 acres of turnips and swedes and 1 acre of kale for fodder. Compartments 1, 2 and 3 may have been ploughed during the war, possibly indicated by the lack of profusion of bluebells that the other fields have. Some very detailed accounts remain from the 18th Century: In 1766 the farm covered 550 acres including the area over which the owner, Charles Tudway, had grazing rights. During that year the number of animals raised on the farm was 519 sheep and 155 lambs. There were also 83 cattle (of which 6 were working oxen), 3 horses (including one "plowmare") and 12 pigs. Areas were ploughed and sown with oats, wheat and clover. In 1768 accounts mention the mending of a lime kiln and during the period 1775 to 1777, 6,400 thorn plants were purchased along with 90 quarry loads of stone.
The landscape around Chancellor's Farm bears signs of human occupation since the earliest times. Two tumuli or burial mounds occur in compartment 4, which are thought to date from the Bronze Age and a Neolithic arrowhead, which was found in the fields in 1983, is now in Axebridge Museum. 
The farm lies on the outer edge of a saucer-like depression containing a distinctive area of small, early enclosed fields.  Priddy, the only ancient village on the top of central Mendip, lies within this area. An estate existed at Priddy in Saxon times. The first known record of a building called Chancellor's Farm was on a map dated about 1570. This is a map of Harptree Liberty, one of the four forest mining liberties of Mendip, and is one of the earliest surviving maps in Somerset.
Environmental designation
Site of Special Scientific Interest (SSSI)