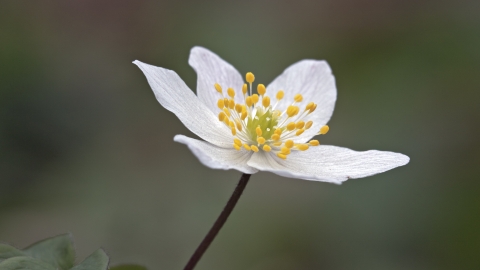 A very damp ancient deciduous woodland and neutral grassland meadow best visited in spring for a wonderful display of woodland flowers.
Know before you go
Parking information
No parking provision. There is limited roadside parking on the very minor road that cuts through the reserve at ST 270 085. Please do not block any gateways. Access into the reserve is from this road at several points.
Grazing animals
The meadow is cut annually using agricultural machinery and is then grazed with Shetland ponies.
Dogs
On a lead
Visit the 'Dog walking on reserves' page in the Contact section for more information.
When to visit
Opening times
Open at all times
Best time to visit
April to July
About the reserve
This site comprises very wet, semi-natural ancient woodland on the edge of the Blackdown Hills AONB. This is a place to visit in spring when a wonderful display of woodland flowers appears including Wood Anemone, Bluebell, Wood Sorrel, Early-Purple Orchid and Wood Speedwell. Ramsons are dominant in the part of the reserve known as Black Aller Grove.
Twelve species of fern have been recorded in the wood including Beech Fern, a rare plant so far south in the UK. The numerous wet flushes across the wood provide great conditions for many Sedges and horsetails such as the Wood Horsetail.
Summer migrant birds find the diversity of this wood attractive and Wood Warblers, Redstarts and Tree Pipits turn up annually and occasionally breed here. The site regularly holds several wintering woodcock which probe the damp ground with their long bills to feed on insects and worms.
The woodland and the small meadow between them support a good number of butterflies including Common Blue, Purple Hairstreak, Speckled Wood and Silver-washed fritillary. The small meadow has a tributary stream of the River Yarty running through it.
The reserves woodlands are on both sides of the very minor road that cuts through the site.
Reserve conservation management - The meadow is cut annually using agricultural machinery and is then grazed with Shetland ponies although the bulk of the conservation work carried out at Bickham Wood revolves around the woodland.
Bickham Wood lies on the eastern edge of the River Yarty valley. The lowest lying area consist of Upper Keuper Marls (Triassic) extending along the valley around Yarcombe and covering most of Bickham Wood. These clay beds contain many large flint/chert fragments which can be major component of the surface layers. On the highest ground (eastern section) and the southern half of Black Aller Grove, the Upper Greensand (Cretaceous) is exposed. To the east of the site clays containing flint and chert nodules are exposed.
Around 100 types of fungi have been found in the reserve of particular note is (Crepidotus bickhamensis), a county notable species. Due to the extreme wetness of the site and accumulation of dead wood, Bickham Wood is of regional importance for its assemblage of fungi.