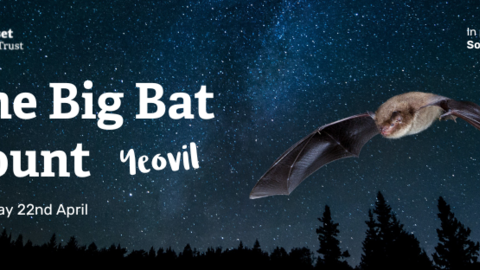 The Big Bat Count YEOVIL
Location:
Nine Springs Yeovil ,
Ninesprings Cafe
27 Brunswick St, Yeovil BA20
Gather your friends, family, community, colleagues and neighbours, and together lets search the skies for bats!
About the event
As part of the Great Somerset Wildlife Count, the Bat Group is helping people to find and count the bats of their local area with our community mapping project to discover how bats use Somerset towns, villages and rural areas.
It's your chance to get involved in real-time, night-time monitoring of a variety of bat species across Yeovil this Earth Day, and use the very latest, cutting edge bat detecting technology to collect data about what bats we have our urban environments. The more data we collect about the county's bats, the better we can conserve the habitats they call home.
Teams of people cover different parts of a local area, with bat detectors that allow them to, listen to, and automatically identify the species of bat making their echolocation calls. The teams record their bat observations on their phones using an online bat count map in the iNaturalist app. The count lasts for an hour after sunset.
How to get involved:
First you need to recruit a team! This could be your friends, family, scout group or colleagues. Then, decide on the area you'd like to survey, such as your street, park or school grounds.
Please read these details in full before booking:
Starting out at Ninesprings Cafe you'll get a short briefing, collect a bat detector and your group will head out to a chosen area of Yeovil. Please ensure you have arranged appropriate transport to get too and from the meeting point. At least one member of the group must attend the briefing and debrief at Ninesprings.
When checking out your ticket purchase, you will be asked to select your preferred area to survey. You could survey near your street or local park, or ask the experts for tips on where to explore within your local area. Then head back to base to return your kit and find out the results.
You must book as part of a team. Groups must contain at least 3 adults (18+), one whom must have use of an iNaturalist account on their phone. Please be aware your team will not be accompanied by a member of staff whilst surveying.
Group 'leads' should book ONE GROUP TICKET per team.
Can't make the date or want to record elsewhere? Our bat detectors are available for hire to groups, find out more here: https://somersetbat.group/bats/count/
Donations for this events will go towards the Somerset Bat Group and Somerset Wildlife Trust for the costs of running the event.