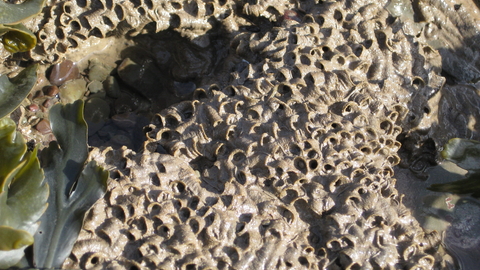 Honeycomb Reef Worms - Somerset's Secret Seashore Habitat
Location:
Blue Anchor Bay,
Blue Anchor Promenade,
Minehead,
Somerset,
TA24 6JP
Book
A PLOVER ROVER 'TALKING THE COAST' EVENT led by Dr Louise Firth, from the University of Plymouth - marine ecologist and reef worm expert.
Event details
About the event
Join Louise to explore the rocky shore and find out about some of the key intertidal species of this vital coastal habitat - including one of her favourite species – the honeycomb worm, Sabellaria alveolata. This reef-forming worm has very specific environmental requirements that has led to a very particular distribution around the UK and Ireland – including locations like Blue Anchor Bay. She will talk about its unique role as a reef-forming habitat for other organisms, why it's important to humans, threats to the species and what we can do to protect it.
Booking
Price
FREE
Suggested donation
Donations to support the work of Somerset Wildlife Trust on the coast and across the county gratefully received.
Visit our 'Donate' page on the Somerset Wildlife Trust website.
Additional booking information
To attend please register via Eventbrite using the booking button. Places will be limited
Know before you go
Mobility
This event is unsuitable for participants with limited mobility. The seashore consists of uneven and slippery rock surfaces.
Wheelchair access
NO
What to bring
You will need suitable clothing for the weather conditions, including sun protection. Wellington boots (or footwear with a good grip which you are prepared to get muddy and salty) are  essential. You may wish to bring a walking pole to help with stability.
There are public toilets and a cafe further along the promenade but this is some distance (5-10 minutes walk) from the seashore we will be visiting 
Parking information
Free parking available along Blue Anchor Promenade