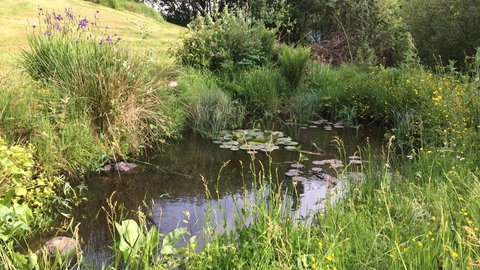 Pond creation and restoration workshop
Location:
Online ,
via Zoom
Book
Learn how to create or restore a pond to maximise its value for wildlife.

About the event
Join us for an online training event via Zoom on how to create or enhance a pond within a garden, landholding or community space. John Dickson (Reptile and Amphibian Group for Somerset) will be discussing why ponds are fascinating and important, and how making new ones can have an almost immediate effect on local biodiversity. This talk will be covering basic pond ecology, construction, planting and management techniques, site selection, and some basic guidance on planning issues.
Booking
Price
Free
Additional booking information
Sign up via the Eventbrite form below (you should receive a confirmation email once you are registered). We will email details of how to access the event, which will take place on Zoom, a couple of days beforehand.
Suitable for
Adults, Beginners
Please note: The Eventbrite form above has its own scroll bar that you may need to use to see all the elements of the form and it will only let you hit the 'register' button once you have completed all the required fields. There are two parts to the form, each with a 'register' button to hit at the bottom. Once complete you should see a confirmation message on the screen and also receive a confirmation email. If you do not receive a confirmation email please contact us at events@somersetwildlife.org and we will get things sorted for you.