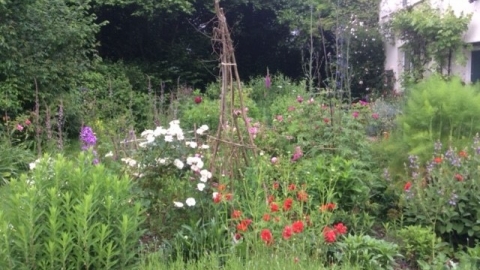 Somerset's Wildlife Garden: Lower Wellisford Cottage
Location:
Lower Wellisford Cottage,
Lower Wellisford Cottage, Wellington, TA21 0SB
Pam and Christopher are very kindly opening their garden for private group viewings to share their wildlife gardening tips and ideas, and to offer you tea and cake.
About the event
Open day OCTOBER 2020 DATE TBC. Private viewings by prior arrangements in August.
Pam and Christopher found this varied three acre site in March 2012. The extended cottage, bordered by the river Tone was formerly the Manor Farmhouse, partly destroyed by fire in Victorian times, with its origins dating from over  300 years. They had often yearned to live close to a river and as they share a passion for plants, wildlife and healthy living, this was the place of dreams. Many of the plants have been propagated from cuttings, and almost all the vegetables grown from seed, raised in a cold greenhouse into small plants or sown directly into the ground.Wildflowers have also been sown in a similar way and seed harvested in late summer.
In the eight years they have lived here the areas of garden and meadow have been transformed with the addition of habitat and wildlife friendly planting and sowing whilst the riverbank has remained natural and allowed to follow its course which is ever changing, with areas of water meadow, and fringes of alder and sycamore.The water levels change dramatically during the year and plants flourish accordingly. The garden itself has several distinct areas of style but each flows into the next either via a path, gate or archway.The Victorian Cottage Garden was created in 2014/15 and changes each year as plants  are encouraged to self seed. In other parts of the garden are trees, perennials, shrubs, fruit trees and rock plants with bulbs and annuals filling in the gaps. Roses scramble and climb as do honeysuckle, a prolific grape vine and wisteria. As well as trees and plants, nesting birds, insects, butterflies and moths are all considered and the river water is clean and accommodates, water shrimp and wild brown trout. Otters are frequent visitors, heard but rarely seen but the evidence is there in their tracks, footprints and spraint.
The meadows are managed by grazing sheep and hand scything with an Austrian scythe and large patches of bramble and nettles are left alone along with woodpiles and lush vegetation especially Ramsoms (wild garlic) in Spring. Very little is wasted as there are compost heaps and leaves mixed with some grass clippings forming leaf mould.No pesticides are used as there is a healthy balance of nature here. Machinery is kept to a minimum and after scything the meadow grass is baled by hand in a home made box baler and stored for feeding the sheep in cold winter weather and prior to lambing.
Booking
Additional booking information
Please email Pam and Christopher directly to enquire about booking a private group tour.
Know before you go
Parking information
Parking on grass on site.