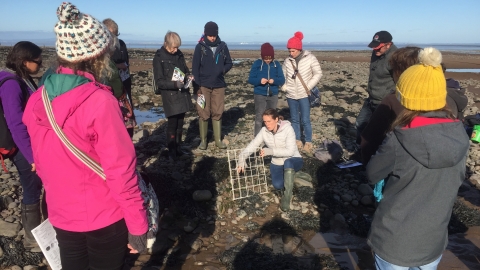 ShoreSearch June Survey - Stolford Sea Wall
Location:
Stolford Sea Wall,
Stolford,
Bridgwater,
Somerset,
TA5 1TW
We are sorry to say this event is cancelled due to concerns about coronavirus. Apologies for any inconvenience.
About the event
Join our team of local volunteers to carry out a seashore survey as part of an ongoing survey of intertidal habitats along the Somerset coast. The data are being collated as part of a national survey being carried out by Wildlife Trusts across the UK. You do not need to have any prior experience of ecological survey work or of seashore ecology as there will be experts on hand to assist you.  Both complete beginners and people already trained in the ShoreSearch methods are very welcome. Somerset Wildlife Trust will provide all the sampling kit, survey sheets and identification guides.
Booking
Price
FREE
Additional booking information
If you have not already done so through the ShoreSearch volunteer group, use the above email to be added to the group and to book your place on this and any other ShoreSearch events. It is essential you have booked so that we can contact you with further details or changes to plans before the survey.
Know before you go
Mobility
Seashore survey work often involves negotiating uneven terrain, clambering over potentially slippery, muddy and seaweed cover rocks and boulders and wading in rock pools. Unfortunately such work is not suitable for people with reduced mobility
Wheelchair access
No
What to bring
We will be out on often quite exposed shores for up to 4 hours often not near toilets and other facilities. THERE ARE NO TOILETS NEAR BY FOR THIS SURVEY. You will need to bring appropriate outdoor clothing for the time of year: warm and waterproof layers, gloves, hats and scarves in the colder months or adequate sun protection in the summer - and often both! Wellington boots or stout, waterproof walking boots are required (please do not wear no shoes). Bring something to drink and refreshments to sustain you.
Parking information
Free parking at Stolford Sea Wall Car Park