A Nature Recovery Network
We believe in a future Britain where nature is a normal part of childhood and where wildlife thrives across the landscape. Where our urban spaces are green jungles and our seas are bursting with life. Where seeing a water vole or toad is an every day experience. 
Our proposals for a Nature Recovery Network will put space for nature at the heart of our farming and planning systems; to bring nature into the places where most people live their daily lives. We need new laws, including an Environment Act passed by the Westminster government, to ensure this happens. In it, local Nature Recovery Maps would be produced to achieve key Government targets for increasing the extent and quality of natural habitats, turning nature's recovery from an aspiration to a reality.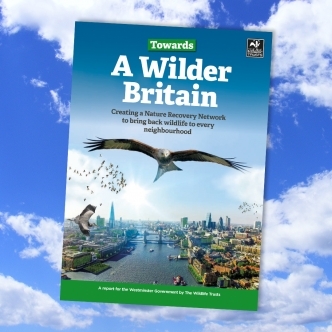 Read 'Towards a Wilder Britain' our proposals for a Nature Recovery Network of joined-up habitats to help wildlife and people to thrive. 
Habitats are fragmented, there isn't enough space for wildlife to move around, and many of our plants and animals are declining. 
Every space in Britain must be used to help wildlife.
We want to see: 
Nature targets

We want the law to set Nature Targets, which are measurable benchmarks that politicians have to meet, like targets on clean air and water quality, or the creation of green space. Politicians will have to show that they are working to meet these targets.
Nature Recovery Network

The new laws must ensure the creation of a Nature Recovery Network. This will join up habitats and important places for wild plants and animals, allowing wildlife to move around.

To do this, a 'Nature Map' of the UK's wildlife would be created, so we can work to connect habitats and ensure new property and infrastructure developments take account of the paths and corridors needed by wildlife.

It would include not only isolated nature reserves, but also parks, gardens, road verges, meadows, fields, waterways and other natural areas and links.

It would also mean creating green avenues and spaces, as well as green roofs, hedgerows, and natural unploughed 'buffer' zones on farm fields, to give wildlife space to thrive.
Nature watchdog

To make sure this happens, there must also be a strong, independent Nature Watchdog to hold politicians to account and to check that they are doing the right things to protect wildlife, such as hitting their Nature Targets. A watchdog would allow people to appeal bad planning decisions that might harm nature and would ensure local government only approves developments which provide new habitat and greenspace and create a 'Net Gain' for wildlife. In short, new developments would add more to wildlife than they would take away.
More ways you can stand up for wildlife
Keep up to date with our work across the county
Sign up below to receive the latest news from Somerset Wildlife Trust, learn about great events near you and learn how you can help wildlife in your local area.