What a total blast - I absolutely loved every minute of it!! Just so exhilarating and so chuffed to have raised just short of £500 for such a worthwhile charity, Somerset Wildlife Trust. Thank you, thank you, thank you, so very much for one of the best days of my life!!
Join Team Wilder and Swim for Wildlife!
Sunday 26th September 2021
This is your chance to swim for wildlife at the most beautiful lake in the heart of Exmoor.  Wimbleball Lake is not normally open for wild swimming so this is a very unique opportunity, and, you'll be in with a chance to become King or Queen of the Moors!
The goal of the Exmoor Open Water Swim is to give everyone the opportunity to swim in this incredible lake. While there are medals for those who come in the top three for their age groups, the majority of swimmers will simply be challenging themselves to participate in a safe and friendly open water swimming environment, and there are four distances to choose from – 1km, 2km, 4km or the elite 6km. 
Sign up to swim for wildlife today!
You have two options - either apply for one of five FREE charity places and commit to raise £300 for Somerset Wildlife Trust, or, sign up for your own place and we'll support you to raise as much as you can without being committed to a set target. 
Thanks to the Exmoor Open Water Swim organisers for choosing Somerset Wildlife Trust as one of their charity partners this year and donating five free places.
Our charity places are filled for 2021!
Our free charity places are now filled, and our Team Wilder swimmers have each committed to raise £300. 
We stall have free charity places available in the Minehead Triathlon on Sunday 26th September 2021 (the same date as the Exmoor Open Water Swim!).
Find out more about the Minehead Triathlon 
Don't miss out next year! Be first to hear when applications open for our Swim for Wildlife charity places in 2022 - email Kate at fundraising@somersetwildlife.org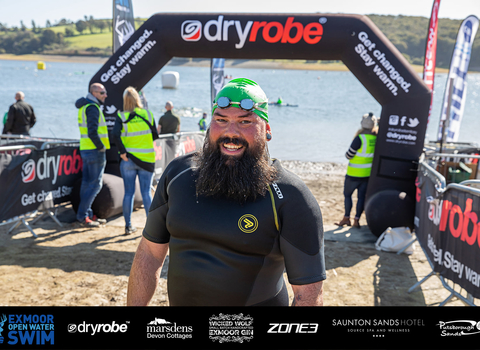 Sign up for your own place
Volunteers needed!
If swimming isn't your thing but you'd like to be involved, we need your help! We're looking for volunteers to help on the day, from serving hot drinks to swimmers, to marshalling cars or pointing people in the right direction. The electric atmosphere and contagious adrenaline from the swimmers will make this a day of volunteering not to be forgotten.
To find out more about volunteering on the day, please contact kate.wilson@somersetwildlife.org  
How your fundraising helps
Being part of Team Wilder is so much more than running a marathon or hiking a mountain, it is your chance to save wildlife for the future, and I'm here to support you every step of the way. 
It costs us almost £2,000 a day to manage all of our reserves, so every penny you raise will really help our wonderful wildlife here in Somerset. 
We'll support you!
When you join Team Wilder, I'll be here to support you from the moment you register, on the lead up to your challenge and after your big day, to help you reach your personal and fundraising goals. 
You'll receive:
Fundraising advice from Kate, our Community Fundraising Manager
A fundraising pack filled with top tips and ideas
A Team Wilder swim top if you raise above £300
Regular updates on how your fundraising makes a difference
I'm looking forward to welcoming you to the team and would love to hear from you.
Get in touch
Thank you on behalf of all at Somerset Wildlife Trust for your interest in swimming for wildlife. 
If you have any questions about the swim, please don't hesitate to get in touch.
Email me at fundraising@somersetwildlife.org or call me on 01823 652404.