Honeygar Farm, Westhay
Somerset Wildlife Trust is currently planning a major fundraising campaign to enable it to buy Honeygar Farm from the Esmée Fairbairn Foundation by early 2023. Honeygar Farm is located between the Trust's Westhay Moor NNR, Westhay Heath and Catcott nature reserves in the Avalon Marshes, one of the largest and most important wetland areas in the UK. The site comprises 46.5 hectares of intensively grazed farmland backing onto the River Brue, a 200-year-old farmhouse, and a collection of sheds and outbuildings, and was previously a dairy farm. 
Honeygar is perfectly situated to connect and buffer the Trust's existing nature reserves and act as a stepping-stone between these sites and those of our Avalon Marshes partner organisations. Its acquisition by the Trust would create more space for nature and contribute to our goal of at least 30% of land and sea being managed positively for nature by 2030. It sits at an important point in Somerset's Nature Recovery Network, linking the Levels and Moors to the Mendips in the north, west to Bridgwater Bay and Somerset's coast, and to South Somerset. In a first for the Trust, the site will be 'wilded' rather than through traditional conservation methods as it does on its nature reserves across the county. Evidence will be gathered through regular monitoring of the species present and the land's ability to capture carbon, so the impact of wilding Honeygar can be assessed and shared widely.
In the 1970s, Somerset Wildlife Trust was the first conservation organisation to acquire land on the Somerset Levels following industrial peat extraction, to restore it for nature. Since then the Trust has extended its landholding there and, as part of the Avalon Marshes Partnership, created the magical wetlands that are now home to many rare species and attract people from near and far.  Over the next decade the Trust will work with those to live and work in the area to develop its vision for the development of the buildings at Honeygar which will require a second major fundraising campaign.
Honeygar Farm is a critical project through which we can deliver our new 10-year strategy. The 46.5 hectare site is not only perfectly placed to strengthen nature connectivity within the Avalon Marshes landscape, it will also contribute significantly to Somerset's overall Nature Recovery Network, and offers us new opportunities to transform agricultural land that is of low value for biodiversity into something quite amazing for wildlife.
We're at the start of a long journey
Honeygar is a major project for the Trust, which will happen over many years. Over time, we hope it will become a place which inspires those who visit,whether other landowners, local people or visitors from further afield.  We are right at the start of this incredibly exciting journey, and our focus is on getting to know the site better, which will help inform our decisions longer term.  We are looking forward to working with our new neighbours and local communities and strengthening the many positive relationships we already have through working in the Avalon Marshes for almost five decades.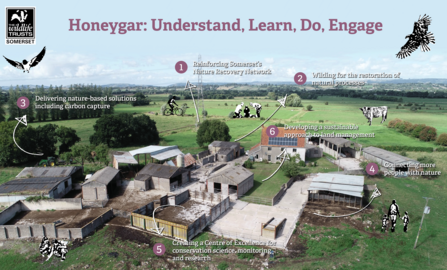 Wilder Carbon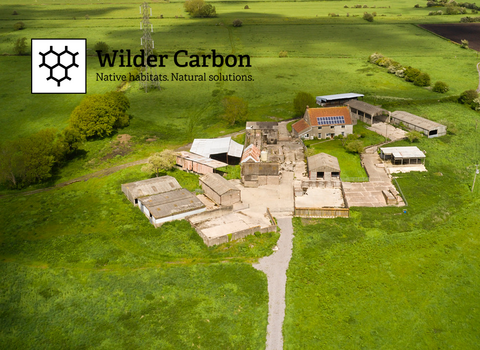 Honeygar: A Wilder Carbon Pathfinder project for the Somerset Levels
We pleased to be able to say that Honeygar is one of a number of Pathfinder projects across the UK brought to the investor landscape by Wilder Carbon - an initiative that secures funding and support for nature based solutions for carbon capture, nature restoration and wildlife recovery.    
Thanks to the Wilder Carbon Carbon Habitat Tool we are able to reliably calculate the amount of carbon that can be locked up by Honeygar, meaning we can convert an organisation's residual carbon emissions into a premium quality, ethical investment in local nature restoration.
Find out more
Keep up to date with our work across the county
Sign up below to receive the latest news from Somerset Wildlife Trust, learn about great events near you and learn how you can help wildlife in your local area.