The Dormouse Appeal
In the last 100 years, our native hazel dormouse has become extinct in 17 English counties. Please help ensure that Somerset isn't the next.
Dormouse numbers have declined by a staggering 51% in the UK in just 18 years and dormice are already extinct in 17 English counties.
Dormice need well-managed, connected woodlands through which they can move safely to feed, find secure places to hibernate, and nest. But with these woodland habitats disappearing all over the county, their populations are becoming fragmented and their future in Somerset looks uncertain.
Traditional techniques such as coppicing, thinning and hedglaying enable us to maintain a balance of healthy habitats in our woodlands, and provide the perfect conditions within which dormice can thrive. We know this management is working, as monitoring has confirmed dormice are present on some of our reserves, such as Langford Heathfield and Black Rock. 
However, we still have a huge amount to do to help Somerset's dormice - installing more nest boxes, training more volunteers in dormouse monitoring, and increasing traditional woodland management.  We desperately need your help to do more before it is too late.   
The Dormouse Appeal
Can you help us create safe habitats for dormice and monitor their vulnerable populations?
Donations made to The Dormouse Appeal will not only help us create ideal dormouse habitat on our woodland reserves. They will also enable us to install more nest boxes to increase the number of safe nesting sites and train more volunteers to carry out surveys to collect vital data about the health of the remaining extremely vulnerable populations that are still desperately hanging on in Somerset. 
What will your donation do?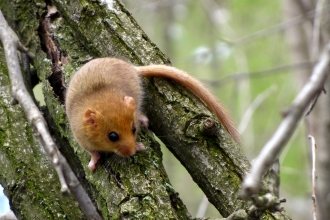 £50
will train two volunteers in dormouse monitoring so more data about their populations can be collected.
Our woodlands need to become welcoming places for dormice and other woodland specialist species.
Non-native trees such as conifers now make up a much higher proportion of UK woodlands than ever before. However they don't provide the favourable light conditions that ensure healthy woodlands with a diversity of food sources for dormice and other woodland species. 
And native broad-leaved trees need to be managed in the right way to ensure the very best conditions. But the percentage of UK woodland being managed using traditional management techniques such as coppicing and hedgelaying currently stands at just 3%. In the 1940s, that figure was almost 50%. 
These traditional techniques also benefit other precious woodland species.
Could 2020 be the year we turn the fortunes of Somerset's dormice around? Your donation really matters.
We know that you value our special species like hazel dormice and their vital habitats here in Somerset, and if you have given to our appeals before, we are so grateful for that support.  But we urgently need that support to continue to help dormice to thrive.
If you are able, please do make a donation to the The Dormouse Appeal. Any gift you can give, large or small, will go directly to wherever the need is greatest for dormice across Somerset.
Thank you.
The Dormouse Appeal
Can you help us secure a healthy future for Somerset's dormouse populations?
Other ways to donate
 You can also donate securely by card by telephoning 01823 652429 or send a cheque made payable to Somerset Wildlife Trust to 34 Wellington Road, Taunton, Somerset, TA1 5AW. Please specify that your cheque is for The Dormouse Appeal.  
Every donation, whatever the size, will make a difference to Somerset's dormice. If we are fortunate enough to exceed our appeal target, we absolutely guarantee that any additional funds will go towards the day-to-day running of our precious woodland reserves. 
Thank you so much for your continuing support.