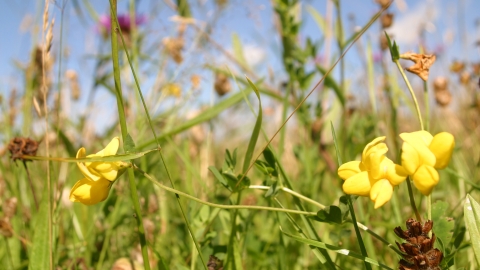 The site lies on a gently sloping hill on the outskirts of the village of North Wooton. Please note this reserve is permit only.
Know before you go
Grazing animals
Summer grazing with sheep.
Access
Permit only site. Access  is via the track at the end of Folly Lane. A field gate enters the grassland from this track. The woodland currently has no pedestrian or vehicle access. Folly Lane runs north of Pilton Hill road starting at ST 568 415.
Dogs
On a lead
Visit the 'Dog walking on reserves' page in the Contact section for more information.
When to visit
Opening times
Open at all times
Best time to visit
April to July
About the reserve
Species rich unimproved grassland and broadleaved woodland with a rich ground flora. The site lies on a gently sloping hill with a southerly aspect on the outskirts of the village of North Wooton. The conservation objectives for the site are to maintain and enhance the species diversity of the grassland by summer grazing with sheep. The woodland is managed to retain an open canopy.
On the grassland the abundance of anthills indicate that the site has not been ploughed in its immediate history and this has enabled the survival of plants which have been lost from surrounding farmland.
Plants found include Meadow Vetchling, Birds Foot Trefoil, Tufted Vetch, Agrimony, Wild Parsnip, Pyramidal Orchid, Greater Butterfly Orchid, Twayblade Orchid and Adders Toungue Fern.
Reserve conservation management – Livestock grazing on the grassland.
History and Archaeology - Greylynch nature reserve was bequeathed to SWT by Mrs. Perret in January 1991.