YESS for youth action in Somerset!
Take your place and have your voice heard at our new virtual youth environmental summit.
Saturday 27th March, 10.30am - 4pm
Thanks to the rising profile of young conservation and environmental role models in popular media over the last couple years, the number of young people across the country that are increasingly concerned about the state of our natural environment and the world that they will inherit is growing.
We've seen young people across the world organising marches, going on climate strikes and taking action to stand up for nature and drive a reduction in activities that negatively impact the environmental.
But outside the bigger national events and campaigns, what opportunities and resources are there available on a local level to help our young people turn their concerns, interests and energy into positive action for wildlife, conservation and the environment - whether that's understanding how to participate in those national events and campaigns or to effect positive direct change in the communities where they live.
Thanks to funding from the #iWill Fund, and in collaboration with the Youth Parliament Somerset and a Focus on Nature, Somerset Wildlife Trust are excited to be able to introduce a new conference - Youth Environment Summit Somerset (YESS) - that looks to explore exactly those issues and more, bringing young people (aged 11-18) from across the county to discuss how they feel and how they can best be supported and inspired to develop their own ideas for actions.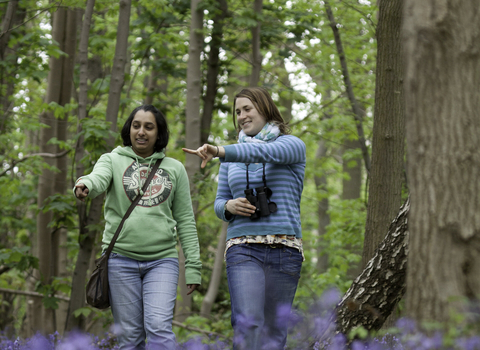 Get involved
When: Saturday March 27th, 10.30am-4pm
Where: Anywhere with wifi - it's a virtual event
What: The conference will comprise a number of engaging talks from guest speakers from the conservation and environmental sectors in the morning and then, after a break for lunch and networking, there will be a choice of interactive workshop sessions to select from, followed by a round up and Q&A session to discuss next steps.
Who can attend: The conference is open to all young people aged 11-18, schools, youth groups and community groups. Each session will be monitored and moderated and will follow digital safeguarding guidelines to ensure a safe and inclusive online environment for all.
Sign up to join in
The conference is free for all to attend and tickets are available via the button below. From here, you'll be able to sign up for the entire conference and select your workshop sessions. You will be sent a link the day before to access the conference. 
What happens after the Summit?
We hope YESS will serve as a catalyst to empower young people to champion environmental issues within their communities.  For Somerset Wildlife Trust,  it will act as a launch for further direct engagement work with young people in Somerset with the initial hope that we can set up a dedicated young people's nature network through which young people can share ideas with peers, collaborate and support each other, and develop a Youth Advisory Board that will inform SWT's work in the county.
Find out more
If you would like to know more about the Youth Environment Summit or our youth engagement work generally, please contact Jolyon Chesworth, Head of Engagement at Somerset Wildlife Trust on Jolyon.chesworth@somersetwildlife.org