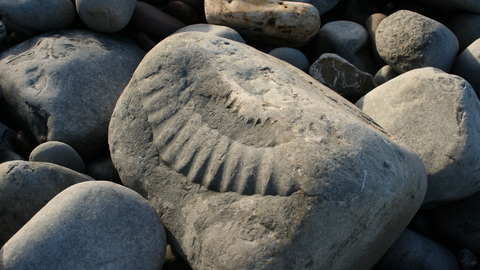 Geology and Palaeontology of West Somerset's Jurassic Coast
Location:
Helwell Bay,
Doniford Road,
Watchet,
TA23 0UG
A PLOVER ROVER 'TALKING THE COAST' EVENT led by Dr Andy King - Geologist and Director of Geckoella Consultants

About the event
Join Andy at East Quay, Watchet for a short walk over to Helwell Bay - a fantastic opportunity to examine the creatures that inhabited the shallow seas that covered West Somerset in the early Jurassic period, approximately 200 million years ago. The superbly exposed sequence of marine limestones and mudstones are highly fossiliferous, ammonites are particularly common. The extensive foreshore reef exposures also enable a 3D picture of communities living on the early Jurassic sea floor to be reconstructed, including giant burrowing worms and 'Nautilus islands'. Another special feature seen at Helwell Bay is the structural effects of the Watchet Fault which has a vertical displacement of over a quarter of a kilometre at this location and juxtaposes some of the oldest Triassic aged rocks against the youngest Jurassic strata exposed on the west Somerset coast, before heading inland and linking with the western scarp slope of the Quantock Hills.
Booking
Price
FREE
Suggested donation
Donations to support the work of Somerset Wildlife Trust on the coast and across the county gratefully received.
Visit our 'Donate' page on the Somerset Wildlife Trust website.

Additional booking information
To attend please register via Eventbrite using the booking button. Places will be limited
Know before you go
Mobility
This event is unsuitable for participants with limited mobility. The seashore can only be accessed via steep steps and it consists of uneven and slippery rock surfaces.
Wheelchair access
No
What to bring
You will need suitable clothing for the weather conditions, including sun protection. Wellington boots or footwear with a good grip which will get muddy and salty is essential. You may wish to bring a walking pole to help with stability.
There are public toilets in Watchet but no facilities at the beach we are visiting (a 10+ minute walk)
Parking information
Various pay and display car parks in Watchet