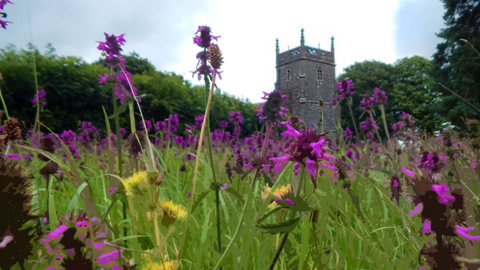 Wilder Churches: Session 2 - Getting to know your churchyard with wildlife in mind
Location:
Online ,
via Zoom
Book
This is the second event for 'Wilder Churches' – a new partnership initiative between Somerset Wildlife Trust and the Diocese of Bath and Wells.
About the event
This is the second event for 'Wilder Churches' – an initiative to support communities across Somerset as they get to know the wildlife of their local churchyard and work together to find ways to increase the value of these special places for wildlife. To help nature recover, we need more people to take action for nature and we want to support them at each step along the way. Pippa Rayner, Somerset Wildlife Trust's Engaging with Nature Coordinator, will in this session provide advice and support on discovering the current value of your churchyard for wildlife, a vital first step in helping biodiversity in these special places.
Everyone is welcome and if you missed the first session you can still join in! (You can also 'catch up' on a recording of the launch event here.
No specialist knowledge or ID skills are required (although of course they are more than welcome!); Pippa will outline simple ways you can get to know the wildlife in your churchyard, as well as ways you can share your wildlife discoveries, helping to inspire others to get involved.
Whilst you explore the wildlife in your churchyard, it will also be important to involve all the people that care for it, so this event will also include advice on ways to communicate about Wilder Churches in your community and encourage others to join in. David Maggs (Mission Team Leader and Diocesan Environment Officer) and Sara Emmett (Assistant Diocesan Environment Officer) from the Diocese will be on hand to support and provide guidance on how to find out the key information about your churchyard and how it is currently managed.
So please join us and continue the journey to making your local church wilder…
Booking
Price
Free
Additional booking information
Sign up via the Eventbrite form below (you should receive a confirmation email once you are registered). We will email details of how to access the event, which will take place on Zoom, a couple of days beforehand.
Suitable for
Adults, Experts, Beginners
Contact us
If you have any issues or queries please email events@somersetwildlife.org
Please note: The Eventbrite form above has its own scroll bar that you may need to use to see all the elements of the form and it will only let you hit the 'register' button once you have completed all the required fields. There are two parts to the form, each with a 'register' button to hit at the bottom. Once complete you should see a confirmation message on the screen and also receive a confirmation email. If you do not receive a confirmation email please contact us at events@somersetwildlife.org and we will get things sorted for you.